Sunday, September 18, 2005

3rd/112th Armor BN (FIST)

Panther S-5 (Civil Affairs Team)

56th Brigade Combat Team

36th Infantry DIV (Texas National Guard)

Central Iraq

WEEKLY ROLL-UP




Staff Sgt Paul Farr writes:
"108,727 people on three continents. That's the latest estimate of people receiving the newsletter as of Sunday, 18SEP05. Before I go off on a tangent, I want to thank fellow Dallas Police Officer Tony Hernandez, he managed to get pictures of the team aired on FOX 4 News in Dallas. Thanks for the Officer Assist Bro. Okay, many of you know how opinionated I can be about certain topics; well I have to pull out my soapbox again so bare with me. I was enjoying my morning bowl of oatmeal and nearly spit it all over the place when I overheard Andersen Cooper with CNN make one of the most ludicrous statements I've heard in a while. He was speaking with a history professor from Tulane University and stated, "I'm afraid this story (Hurricane Katrina) is going to just go away and people will forget what happened here." Hey Mr. Cooper, you mean like the war in Iraq? It's funny how the media is so quick to jump on what's going on over here when it's controversial, like Abu Graib. Another story that really got my blood pressure going was the picture of the President writing a note about needing to go to the restroom. I truly believe some of the people who decide to air some of these stories are on drugs, probably crack cocaine. I think they take a hit from a crack pipe and as the smoke is getting in their eyes, they say, "Hey, you know what would be funny, let's print a picture of the President asking to go to the bathroom." I'm not amused at all and it's pretty (expletive) sad. It's sad how the media is more willing to jump on a stupid note than showing medics helping Iraqis, or better yet, Iraqis rebuilding their country. I guess that's where my newsletter fills the void. Please take time to visit Michael Lubke's website: http://www.mlub.blogspot.com. He has taken a personal interest in helping the team by posting our newsletters and he's a University of Texas undergrad student. That alone makes him okay in my book, Thanks Mike.

I have good news to report this week. All of the projects have begun and going well. The communities are buzzing with excitement and anticipation of the projects completion. The projects needing the most work will take approximately 50 days from start to finish. Those include the renovations of the three schools. The quickest projects (electrical) should take less than a month and the water projects should take about 30 days. It's impressive to watch the laborers complete tasks without the aid of electrical equipment. All of the materials are brought to the site, mixed and applied by hand. It's especially gratifying for the team to go into these villages and be swarmed by the workers, thanking us for providing them opportunity to work and provide for their families and to improve the standard of living for the entire village. The team has such a good reputation in the outlying areas we are considered sons to many of the villages. It's a good feeling to go into a village and be welcomed as one of their own. The hospitality of the Iraqi people in the rural areas is one thing I will always remember and miss when I rotate home.

Welcome to the "First Timers" receiving the newsletter. I hope you enjoy it and feel free to pass it around to as many people as you would like, that's what it's here for. Thanks for the continued support of the troops; we truly appreciate all the letters of encouragement, e-mails, and boxes. I will be more than happy to entertain any and all questions, comments, or requests. Finally, "if you can read this, thank a teacher, if you can read it in English, thank a Veteran." Have a good week and Hook'em Horns, Paul."

"Some people give time, some money, some their skills and connections, some literally give their life's blood. But everyone has something to give." –Barbara Bush

"To reacquaint, or in some cases acquaint you with the team, standing l/r; SSG Farr, SSG Pena, 2LT Colicher, SSG Wasson, SPC Moses, and SPC Blanchard. Kneeling from l/r; CPT Walton This photo was taken in front of the Ishtar Gates leading into the Ancient City of Babylon…26JUL05 (non-team member) SPC Watson, Iraqi Interpreter Delshad, and SPC Khan."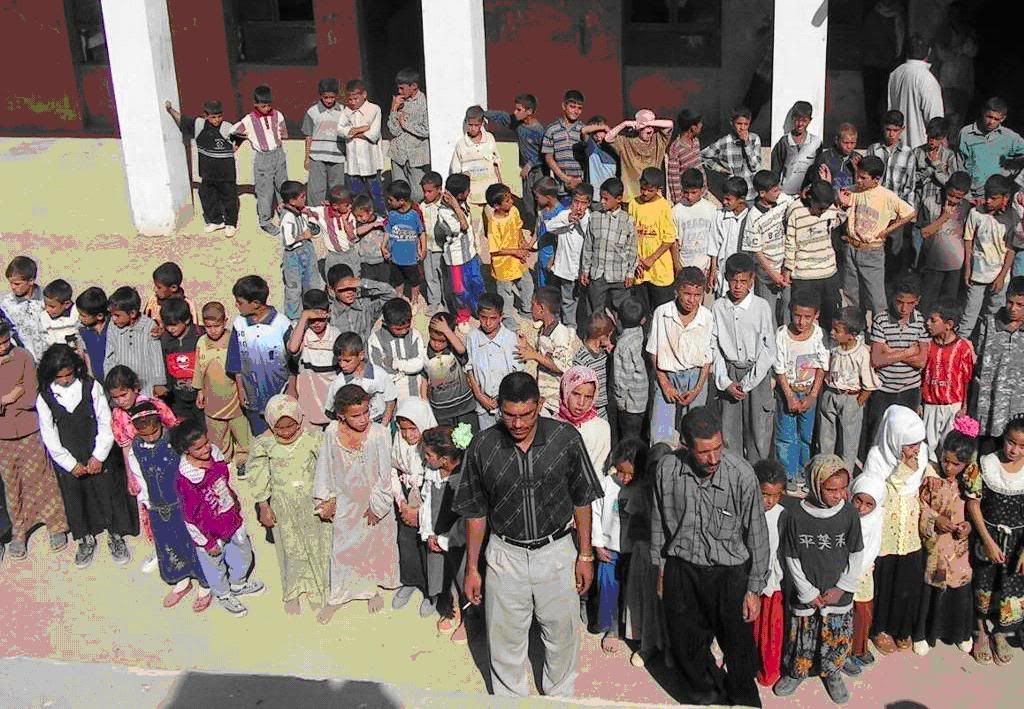 "There were 150 students assembled together on this day. We had several soccer balls, shoes, and uniforms donated by a company in the US. This is one of our favorite schools and we chose them to be the recipients of the soccer equipment…13SEP05"

"Pictured are some of the shoes and soccer balls. The Headmaster of the school is on the left and one of the 6 teachers is on the right. The Headmaster is our equivalent to a Principal....13SEP05"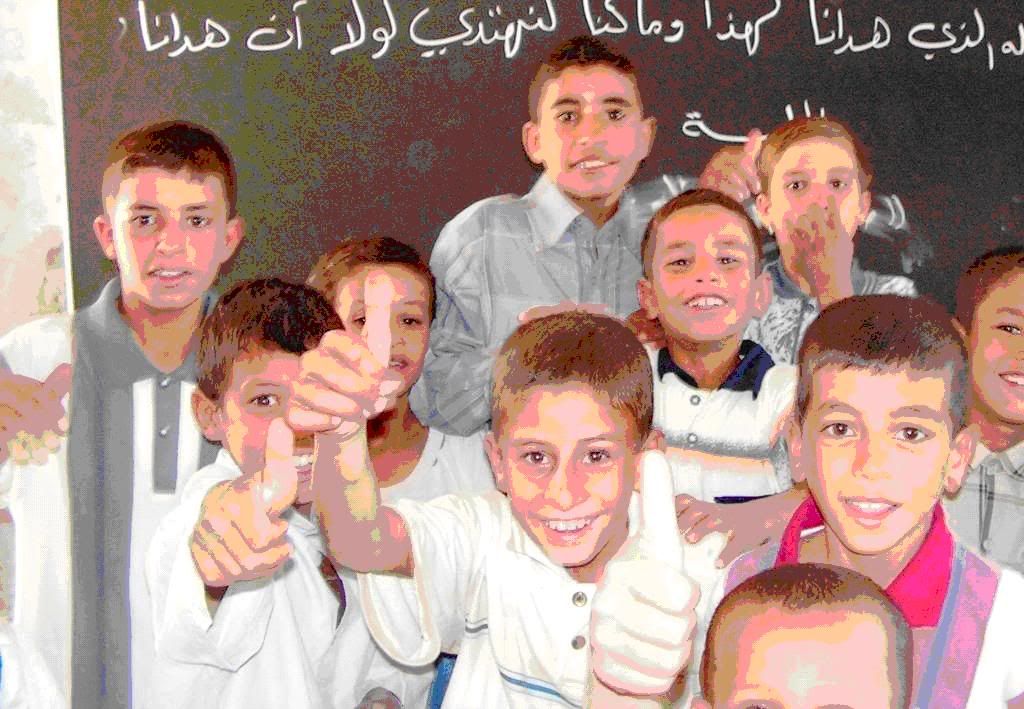 "These young Iraqi boys are taking time out of their Islamic Lesson to pose for a picture. The Iraqi schools are similar to ours in America when it comes to class and age structure. They have a Primary School which is the same as our Elementary School. They hold grades 1-6. Intermediate School holds 7-9 and High School is 10-12. In grades 1-4, their lessons consist of Math, Arabic, History, Geography, Islamic Lesson, Sports, and Art. Once they reach 5th grade they will begin to learn English. The top phrase says; "In name of God he is most merciful, compassionate." The bottom lines read, "Thanks to God who guides us. If he is not guiding us, we will not be, but Allaha who did it. Arabic is a language not easily translated into English and sometimes makes no sense to us. Even harder is to try and read or write it. I know the ACLU would have a cow if this was in an American school…13SEP05"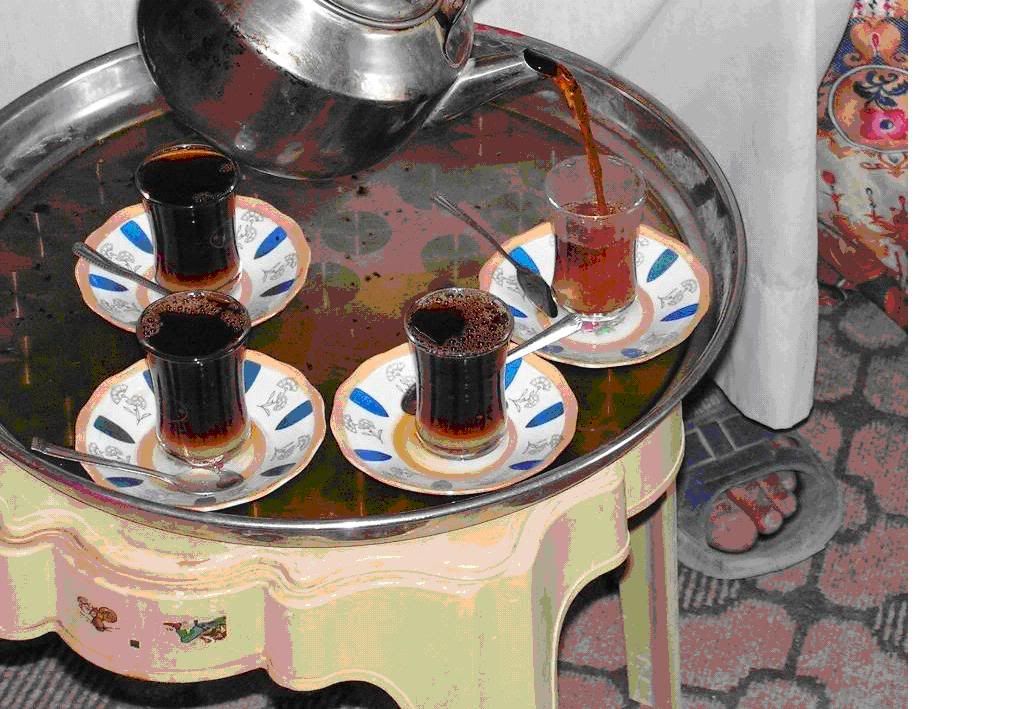 "I mentioned last week about drinking tea pretty much wherever we go. It's a custom to offer tea to friends or business associates. It's served taste bud removing hot with about 1/3 glass of sugar. I found out early about 2 of those and your awake for a long time. Being a Southern boy, I'm a fan of sweet tea, but WOW! You can almost feel the enamel sliding off your teeth."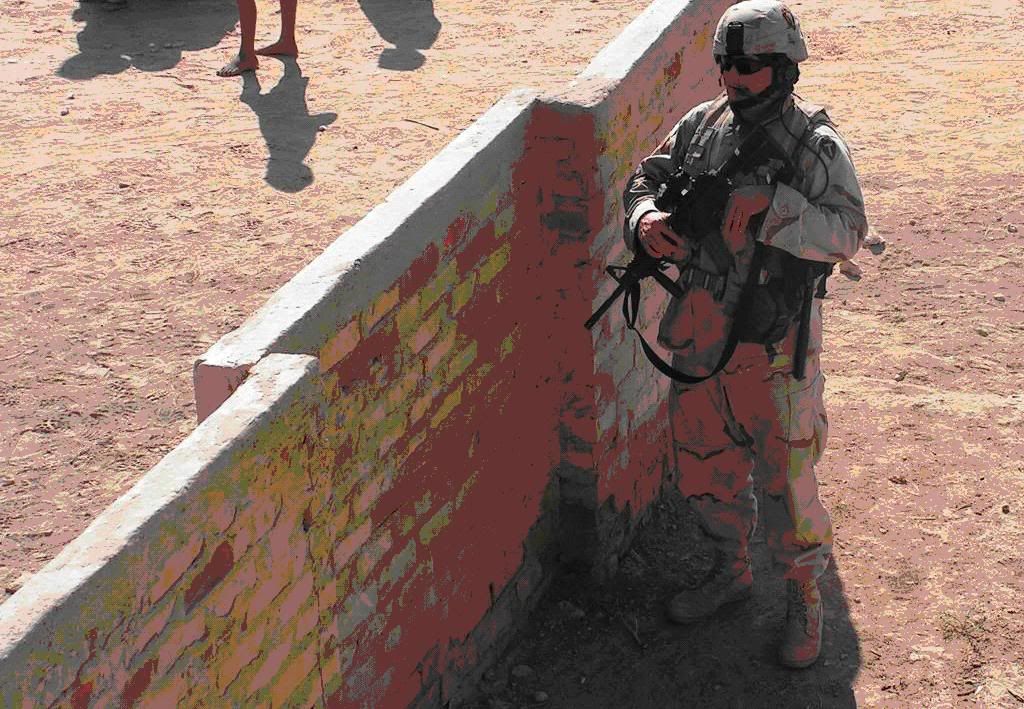 "Often found lurking in the shadows, the ever elusive SSG Wasson is never too far from us, helping provide security during our meeting engagements with key leaders…13SEP05"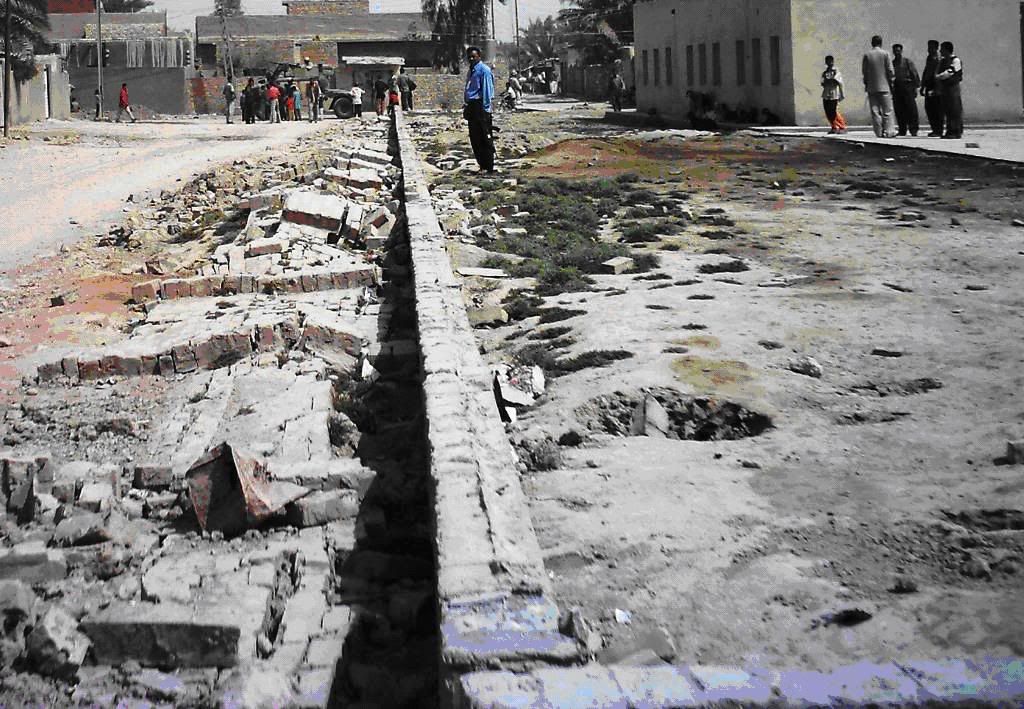 "This one of our project schools located in a nearby city. This particular school is an all-girl school. This school is only two years old; however, the perimeter wall has fallen down and the bathroom is in disrepair. Due to these two problems, many girls refused to attend school because they were forced to go to neighboring homes if they had to go to the bathroom. This embarassed them so badly they refused to attend school."

"With the walls and bathroom being repaired, the girls are happy and coming back to school again...13SEP05"

"These are some of the students waiting to be released for the day.

In Iraq, the school days start at 8:00 a.m. and ends around 12:00 p.m.

Each class is about 45 minutes long.

For those students reading this, don't think Iraqi kids are getting over; they attend school 6 days a week.

Plus, school is pretty much the only free time they have during daylight hours.

From school, if they live in rural areas they will go straight to the field and work until sundown, or tend to the flocks of sheep, goats, or herds of cattle.

If they live in the city or urban areas they will work in the family shop doing odds and ends.

They don't have the luxury of sitting in front of a television or going to the mall…13SEP05"


"From l/r: SSG Farr, Iraqi Police Officer, Project Contractor, Girl's School Headmaster, & 2LT Colicher. The Headmaster was so excited we stopped by to check on the status of the project. She thanked us profusely for choosing her school to repair. She said not only will the repairs help the current students, but many generations to follow. She also called us her sons and said we were welcome to come visit her whenever we could…13SEP05"

"This is another one of our schools we are having renovated.

Obviously, this was taken prior to the beginning of
work."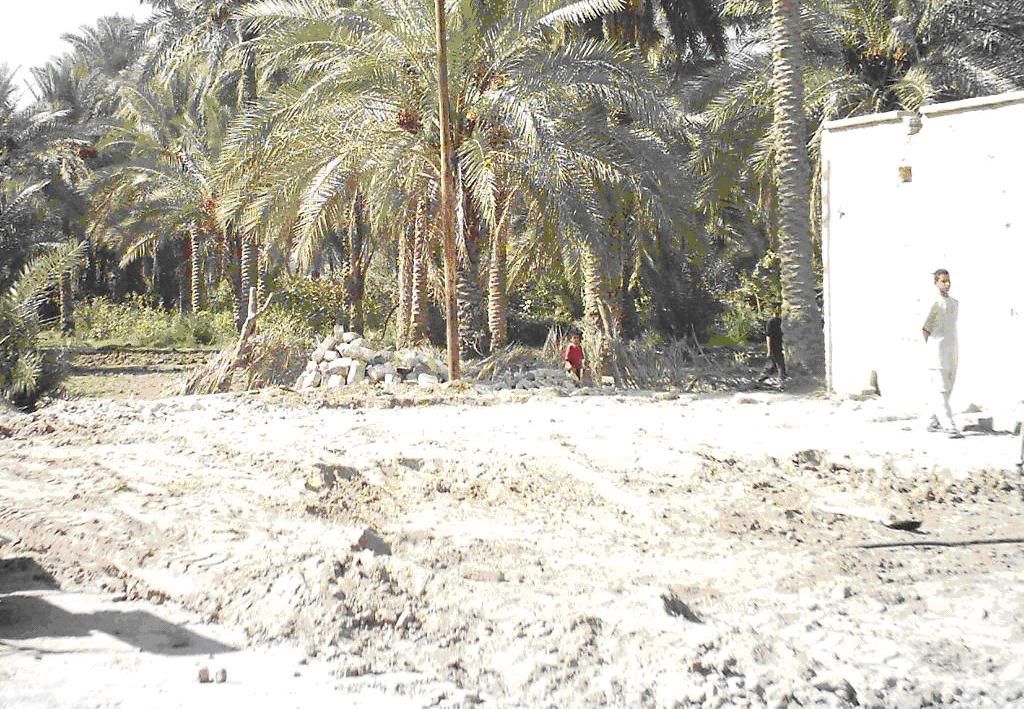 "This is the same school minus the old mud classrooms. The two classrooms will be replaced by brick and will also be wired with electricity...16SEP05"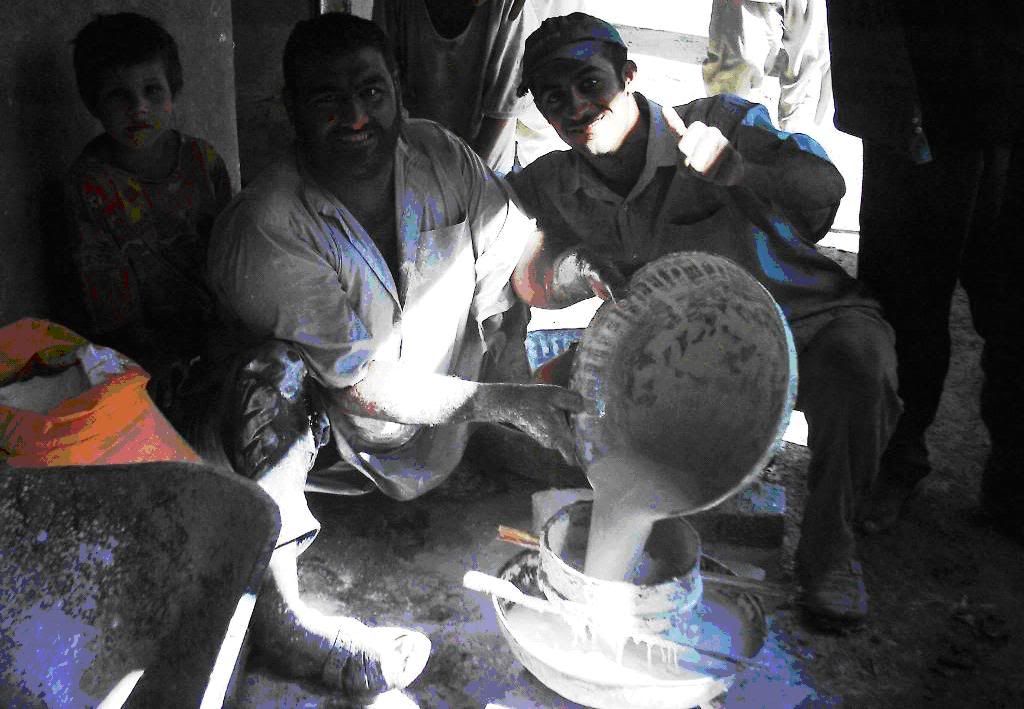 "I mentioned earlier how everything is mixed and applied by hand, here you go. This man is severely crippled, yet the contractor found it in his heart to hire him. There is little if no discrimination when it comes to working. If you can give an honest days work, then you can work, no matter what physical ailments you may have. Unlike in the US, there is no welfare system that allows people to sit on their backsides and collect unemployment or welfare. If you don't work, you can't provide for your family…period!...16SEP05"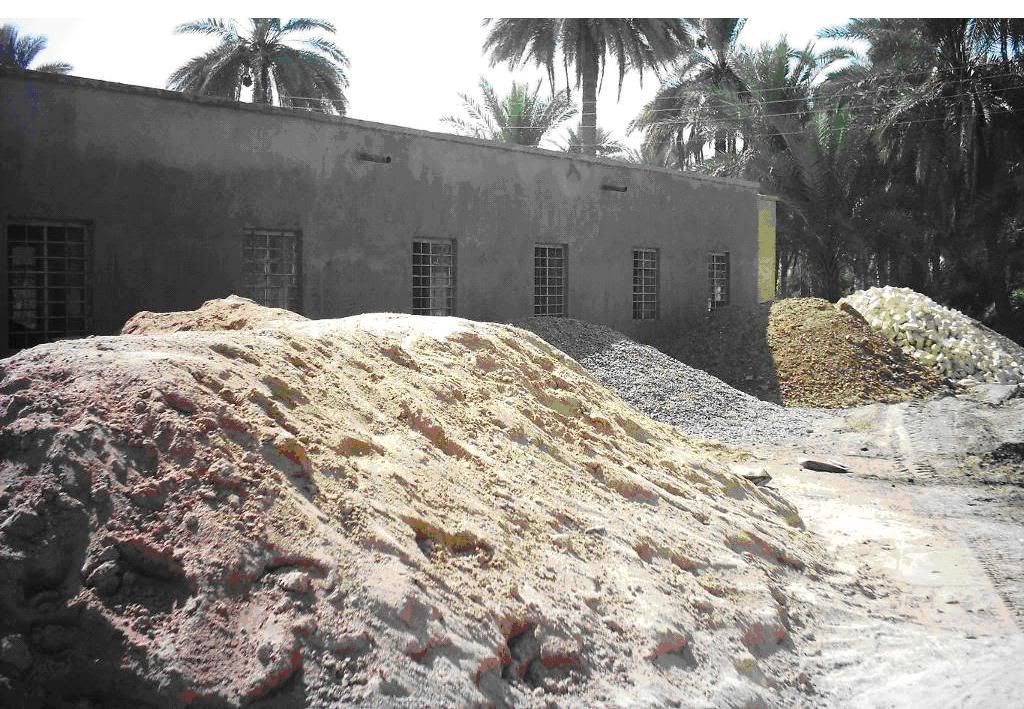 "Material that will be used in the renovation of this school...16SEP05"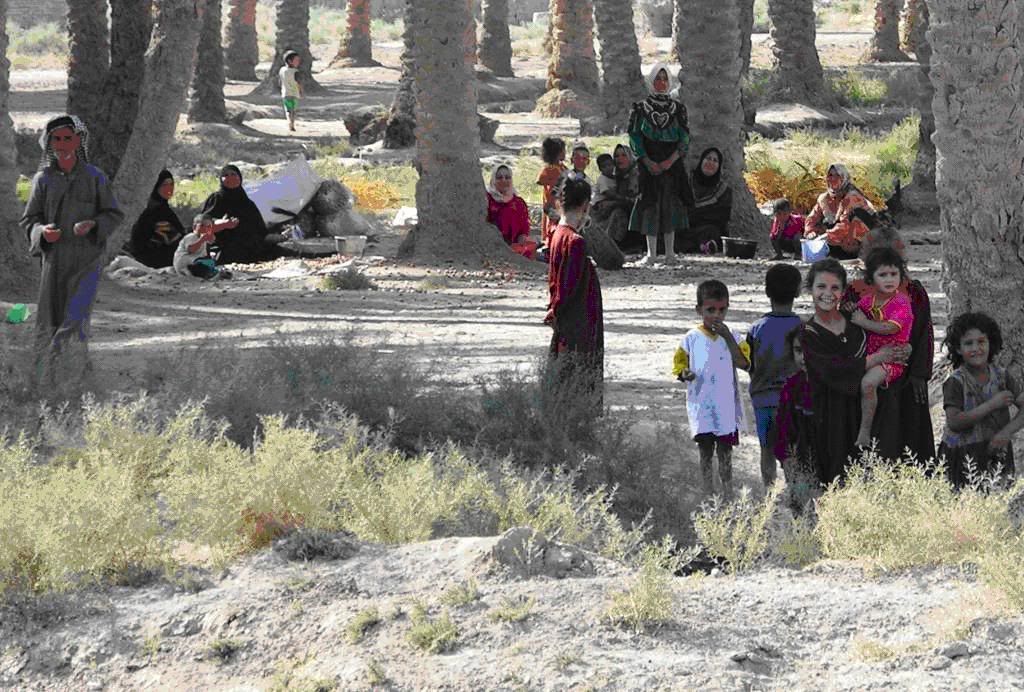 "When we rolled into this town, it was the first time Coalition units had visited them. Needless to say people were running everywhere, trying to figure out why we were there. The women and small children were gathering dates that had fallen to the ground. They actually had someone shimmy up the tree and knock the dates to the ground. Even though we had nothing to offer them this trip, they still gathered around to see real live Americans…16SEP05"
Sunday, September 11, 2005
Tuesday, September 06, 2005