Monday, November 14, 2005
"Homecoming Ceremony," it will be located at Baylor University's Floyd Casey Stadium in Waco, TX on Saturday,10DEC05 at 2:00 pm

Staff Sgt Farr writes:


3rd/112th Armor BN (FIST)
Panther S-5 (Civil Affairs Team)
56th Brigade Combat Team
36th Infantry DIV (Texas National Guard)
Central Iraq
WEEKLY ROLL-UP
139,497 people around the world. That's the latest estimate of people receiving the newsletter as of Sunday, 13NOV05. I write this final newsletter with both a heavy, but proud heart. Heavy at the thought of leaving so many wonderful people behind, not knowing what will happen to them in the coming weeks, months, and years. From our interaction with the children to the receptive adults inviting us into their homes for chi (tea), these are memories I will cherish with a proud heart until my dying day. I have enjoyed my time getting to know the people in this area and Saturday was an emotional day for me, saying "see ya later" (good-bye to me means I will never see you again, something final. I rarely if ever say it because in the military I know I will cross paths with you again…even the Iraqis) to the many friends I have made here. I heard 100 times if I heard one, "Thank you for what you have done for my village, my family, and the people of Iraq." The team and the team replacing us were treated to one of the finest meals I have ever had. CPT Tatum, the OIC (Officer in Charge) of the new team commented on how impressed he was with the hospitality and how he looks forward to continuing the good relationship the Iraqis of this area have with the Americans. I think this day was especially beneficial for the new unit as they were able to see the relationship we have fostered over the several months we have been here. It's one thing to tell them how much we are liked, but to actually be witness to the gratitude is something hard to deny.
We have done so much in the way of helping the Iraqi people in our AO (area of operation) that was never realized or appreciated by the other soldiers in the Battalion. They just thought we were handing out toys and candy, many still believe that to this day. How ignorant they were at what we were truly doing. I still believe we were the main reason they were able to sleep at night without the sound of constant in-coming or ambushes in our area of operation. Those children walking down the road waving at them wasn't because the combat patrols were patrolling the area, it was because the Civil Affairs team took time to stop and visit with them, give them school supplies, and treat them like any other kid you see on the street back home, with respect and kindness. We were the ones out interacting with Iraqi people in a positive manner, hiring them to come to work on our base camp, rebuilding schools, erecting power lines, building water sites, and distributing much needed clothing and school supplies.
I watch these so-called military analysts who Monday-morning quarterback the war on FOX News and The Generals who never leave their secure areas in Baghdad voice how this is a complex war. The soldier on the ground fighting the fight can tell you that, first hand. On one hand we are fighting insurgents and the other we are trying to "Win the hearts and minds." If you are successful in the latter, then you have an area such as the one we live in. One where the local population will see the good we are doing and not allow the insurgents to come in. Very seldom is the work of the Civil Affairs team acknowledged by the media or by our own commanders. Rarely do they receive recognition or accolades. The praises we received Saturday and throughout our deployment by the Iraqi people is recognition enough for me. No amount of medals on my chest will allow me to sleep better at night. But, knowing I came to Iraq and helped the people I once fought against will allow me to sleep a peaceful sleep.
The team has done an outstanding job and I'm proud to have served with them. I know each one is looking forward to a much deserved break and being reunited with family members and friends. But, as we have joked of late, we will miss each other. We know things about each other our own families don't. We have done things, seen things and experienced things only soldiers will ever understand. No matter how hard you try to duplicate it, no one is ever as close as combat soldiers. Every war veteran can attest to it, just ask them.
I know many of you have wondered out loud if the newsletter will continue. I can tell you the newsletter published by this soldier's hands and eyes has come to an end. But, rest assured someone from the new unit has stepped up to the plate and has volunteered to continue informing and educating. I have passed along everyone's e-mail addresses and you should look for the new newsletter in the following week. I know everyone will extend the same courtesy as you have shown me, keep him on his toes with the e-mails.
Welcome to the "First Timers" receiving the newsletter. I hope you enjoy it and feel free to pass it around to as many people as you would like, that's what it's here for. Thanks for the continued support of the troops; we truly appreciate all the letters of encouragement, e-mails, and boxes. Finally, "if you can read this, thank a teacher, if you can read it in English, thank a Veteran." Have a good week and Hook'em Horns, Paul.
Ask yourself this question: "Will this matter a year from now?" –Richard Carlson
Just in case there are some of you out there who have no idea who we are, here is a team photo so you can put a face with names. Standing on the hummers holding the Texas Flag, SPC Khan and SPC Blanchard, standing l/r; SSG Pena, SSG Farr, 2LT Colicher, SSG Wasson, SFC Loud, and SPC Moses, kneeling is one of our Iraqi Interpreters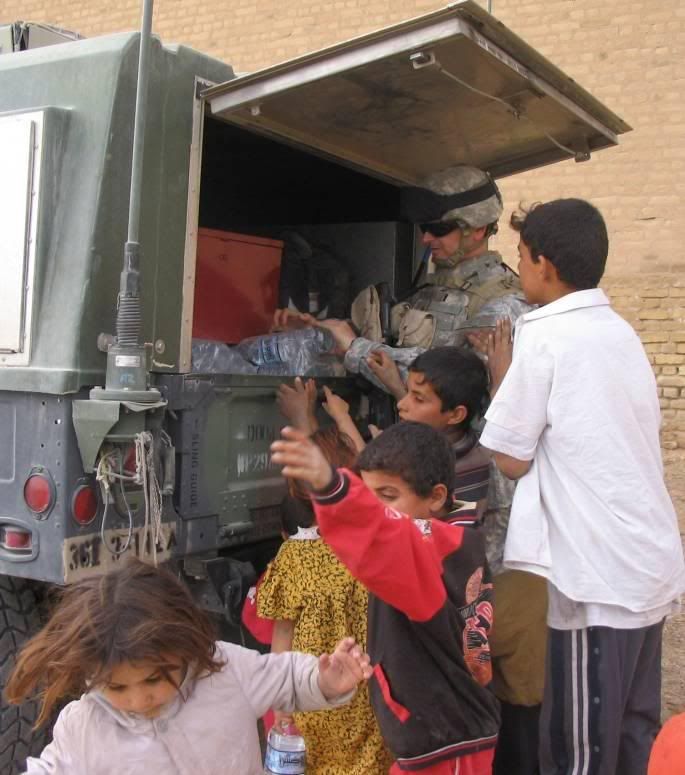 We visited our friends at the "castle" again this week and word quickly spread we were there to hand out bottled water and school supplies. As usual the kids were very excited to see us and appreciative of the "gifts."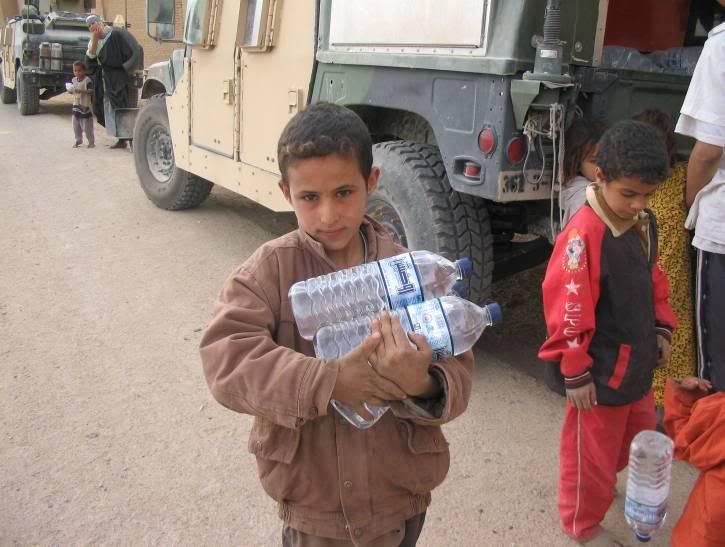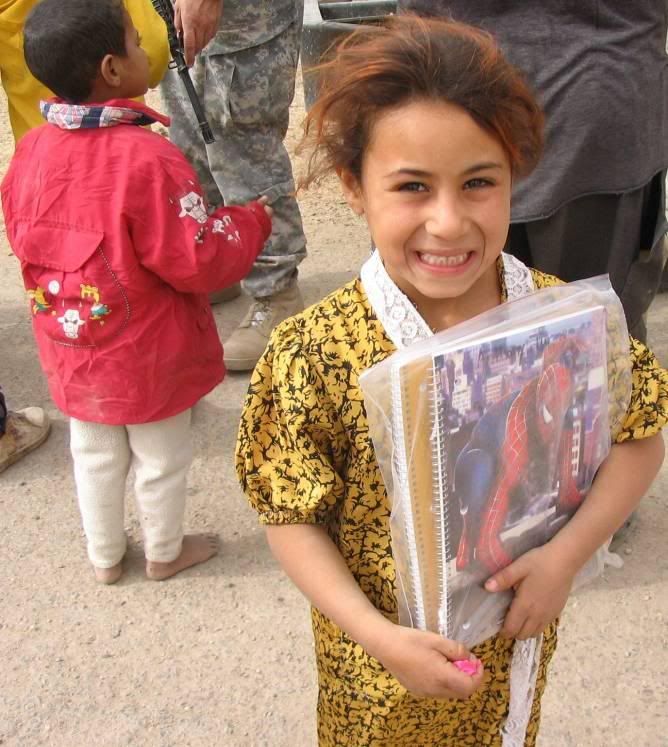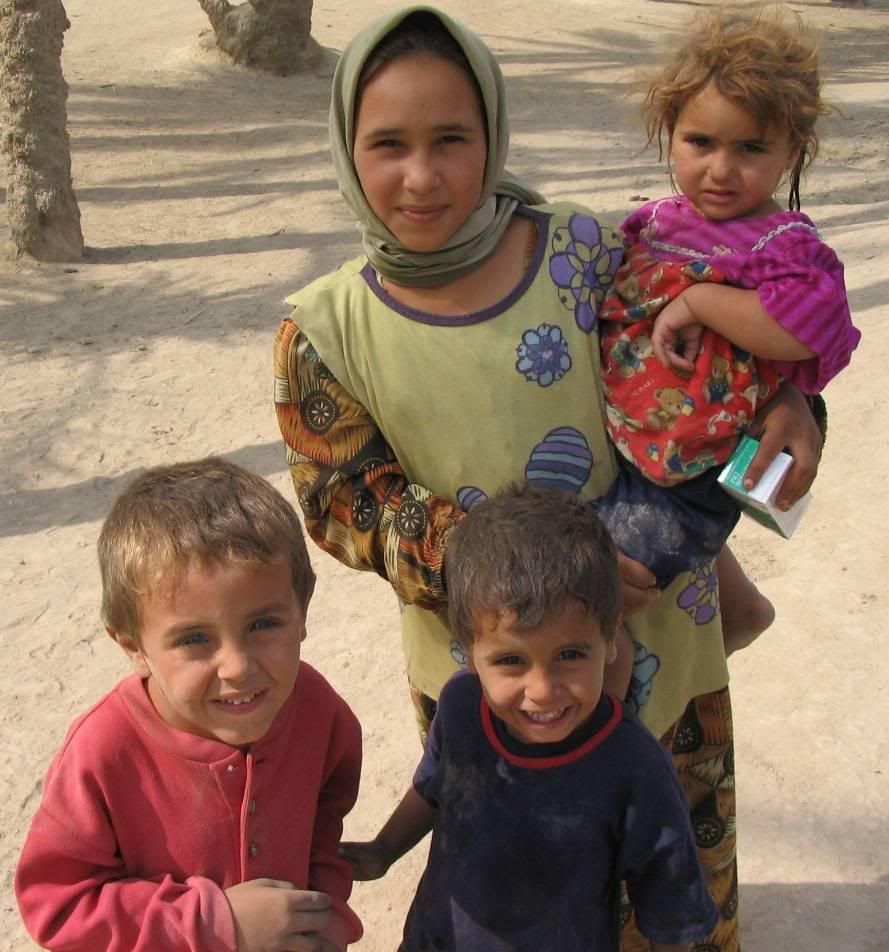 These were just a couple of pictures I had taken in October, but had some how over-looked. When you have as many photos as I do it's hard to pick out which ones to use each week. Like I explained to someone just the other day, it's like trying to choose one of your children as a favorite, you just can't do it. So I go with the ones that stick out and that I think you guys will enjoy. Mostly, I try to choose the ones that don't require a lot of explanation.
As I have mentioned several times in the past, just our mere presence in the village causes the "Piped Piper" effect. We were in the village less than five minutes before word got out we were there, within that short time there was over 100 children that came out to visit with us.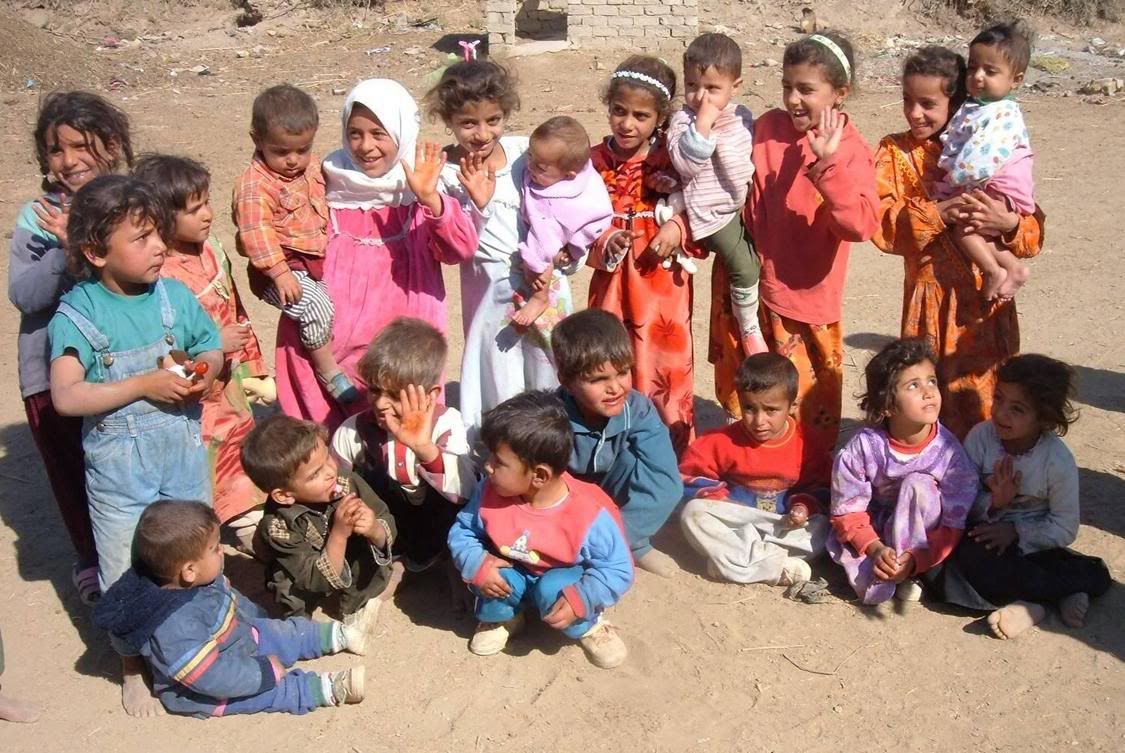 This is one of those moments I mentioned earlier about cherishing. When the children learned this was our last visit, they came out to wave to us as we were leaving.
On my right is one of my good friends and his son. The elder gentleman is the Sheik of this particular village. He would always comment on how well I picked up the Arabic language. It pays to learn some key phrases in any language because it shows you care about the people you are working with. Plus, it's a sign of respect especially when dealing with the elders of a village.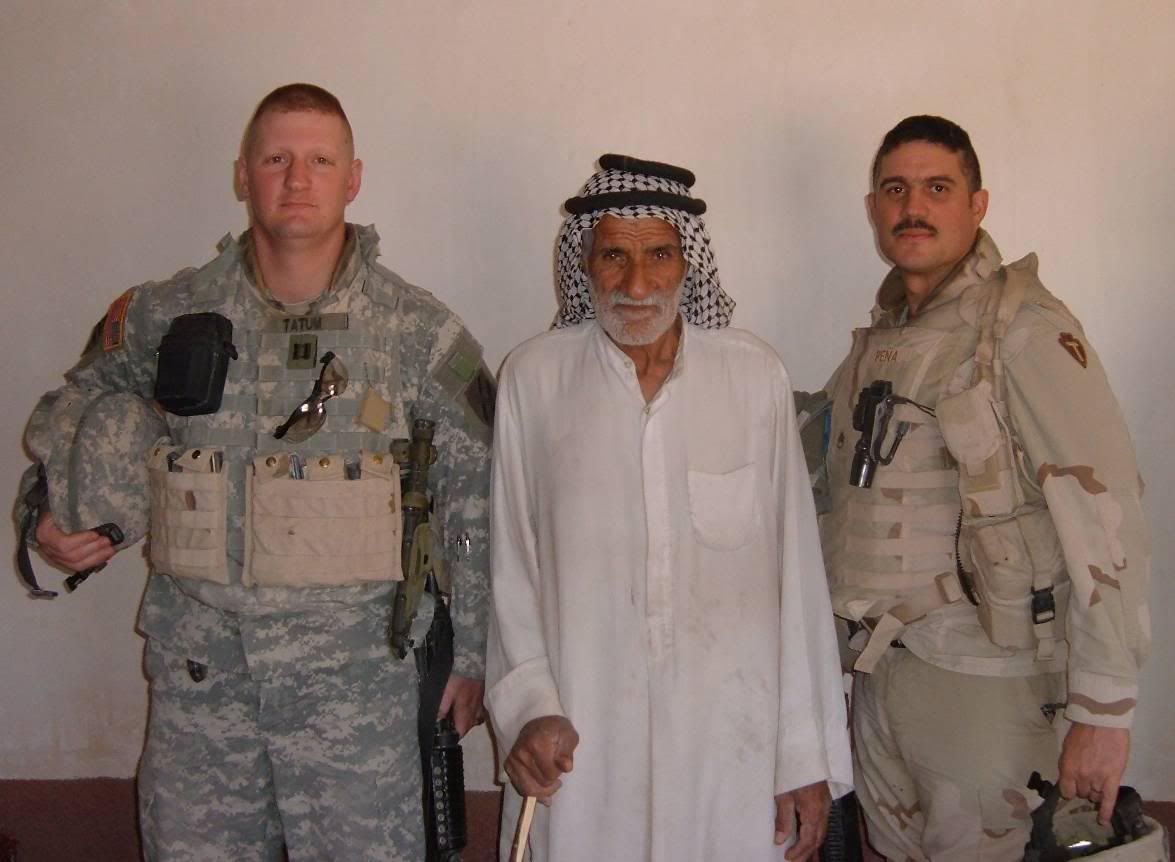 CPT Tatum with the new Civil Affairs team and SSG Pena also shown with the Sheik.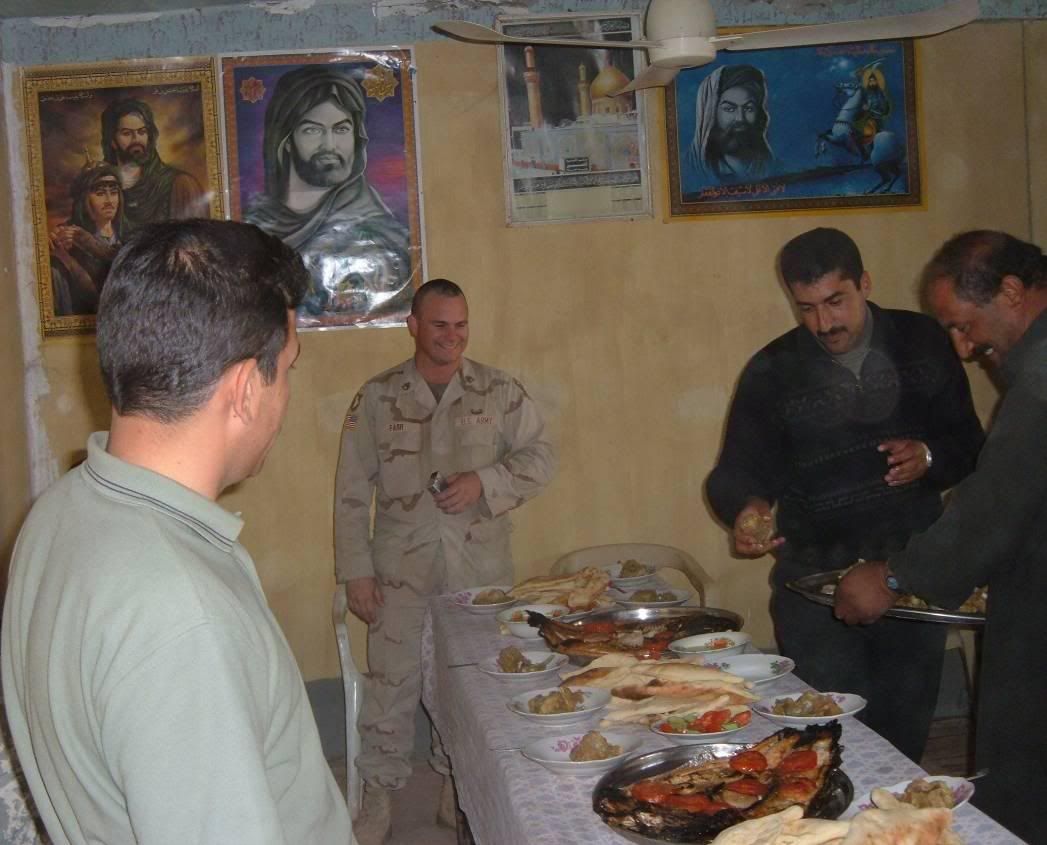 The nervous smile on my face is in response to being named "head guest" at this little get together. I was informed since I was the "head guest" it was Iraqi custom to be presented the head of the lamb. I kindly reminded them that I was not Iraqi, so their custom did not apply to me. Thankfully, they have a sense of humor like mine so they just laughed and placed the head in front of me anyway.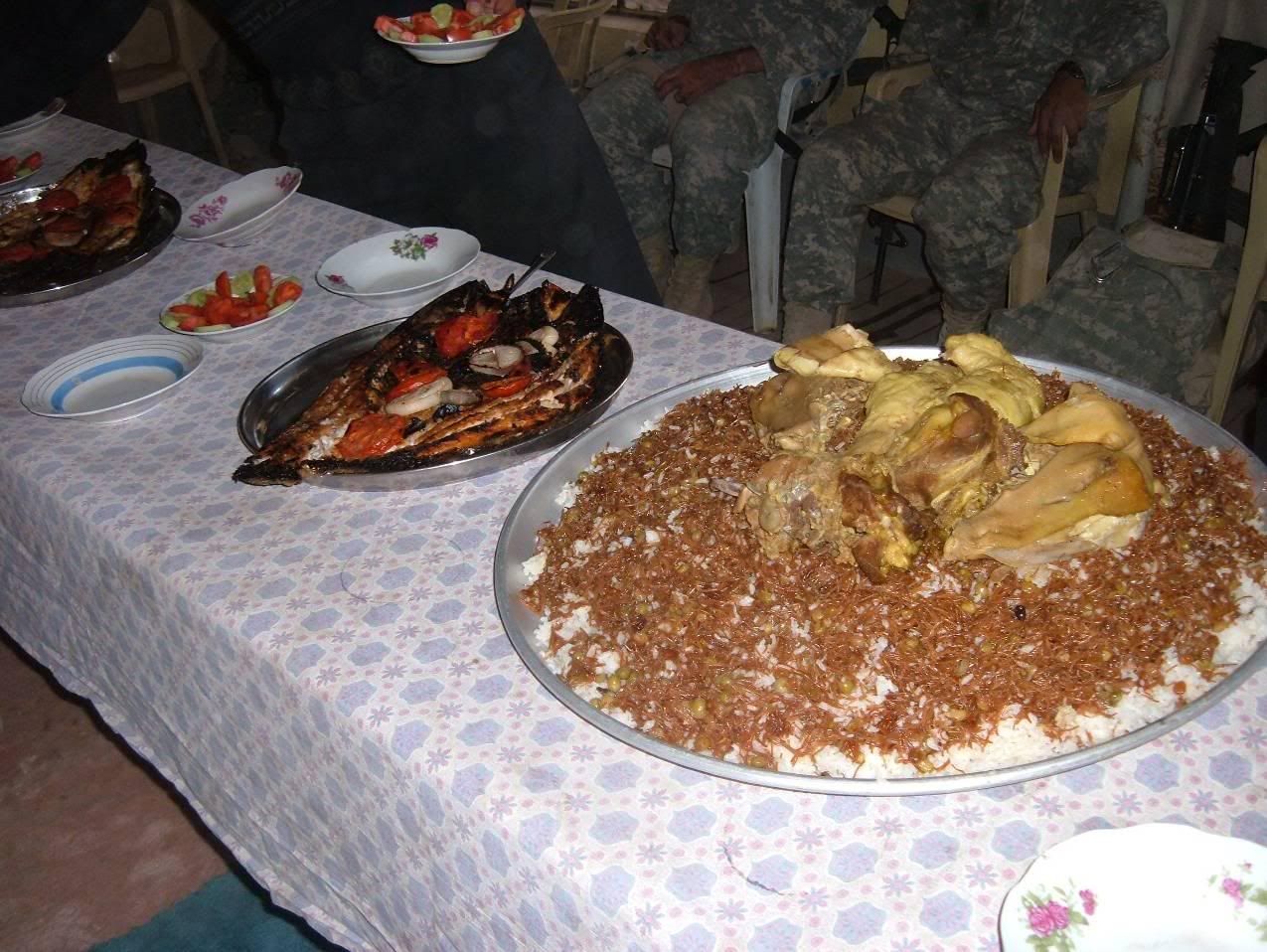 With a little imagination, I'm sure you can pick the head out of the pile of meat on the bed of rice.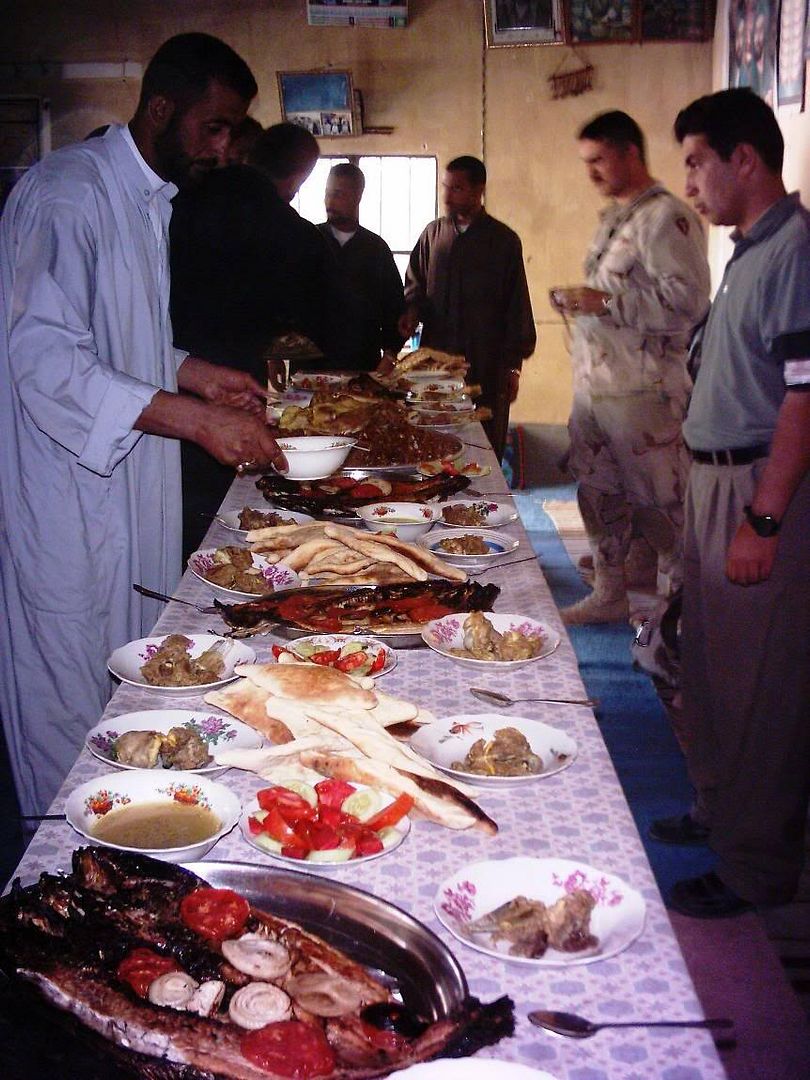 Menu items included; lamb, rice, fish, tomatoes, cucumbers, bread, Iraqi cola, and fresh fruit. As custom in Iraq, the Sheik did not join us. But what he did do was come around and continuously add meat to my plate. He said one Iraqi man could eat a lamb by himself, I jokingly told him I believed him; it looked like he had eaten a small flock. He got a good laugh and added more meat to my plate.
Some of the new team members enjoying some Iraqi hospitality. SSG Shaw is seen drinking an Iraqi cola and SPC Cole is to his right. Of course you recognize my two interpreters. I think it's important to show the adults too welcome our presence here and show their appreciation by either putting on a large feast, or offering chi (tea).
As this newsletter draws to an end, I cannot express enough the deep gratitude the team has for each and every one of you who have received this newsletter, passed it on to others and then either mailed boxes of donated items or sent the team care packages. We have forged some new friendships and I will try my best to stay in contact with y'all. I promise to send out one more newsletter once we arrive in the states and at the conclusion of our "Homecoming Ceremony." That will be my way of letting everyone know the team has made it home.
As a final note to everyone, if you would like to attend our "Homecoming Ceremony," it will be located at Baylor University's Floyd Casey Stadium in Waco, TX on Saturday,10DEC05 at 2:00 pm. I was supposed to provide a number of attendees on my behalf, but I didn't think they would find 139,497 an amusing number. If you would like to attend and meet the team, we sure would like to meet you as well and thank you in person for your generous donations and continued support…it would be our honor.
Proud Thanks
Across the world, in far off lands,
On heaving seas, on desert sands,
You serve our flag, you guard, you fight,
Make despots quake and fear our might.
You show the world a fearsome face,
But do it with a noble grace.
The same steel fists that man the guns,
Unfold in kindness to little ones.
How can you warriors fight through the night,
Then hand out food when comes the light?
Unlike other armies, you American G.I.'s
Are not viewed with fear by civilian eyes.
Other nations see this and are amazed
Not us, we know it's how you're raised.
Wherever you serve, the world can see,
You're the fine result of our democracy.
On this day of grace we send our prayer,
And give proud thanks to you everywhere.
Russ Vaughn
2d Bn, 327th Parachute Infantry Regiment
101st Airborne Division
Vietnam 65-66
There should be no doubt in anyone's mind who the real #1 is. A&M I truly feel sorry for you...actually, no I don't. The majority of this Brigade's chain of command is A&M Alumni, which accounts for a lot of things here, so I'm going to take a personal interest in seeing them suffer. You better get your 12th Man suited up because you're definitely going to need her.
Hook'em Horns
Sunday, November 06, 2005

3rd/112th Armor BN (FIST)
Panther S-5 (Civil Affairs Team)
56th Brigade Combat Team
36th Infantry DIV (Texas National Guard)
Central Iraq
WEEKLY ROLL-UP
135,603 people around the world. That's the latest estimate of people receiving the newsletter as of Sunday, 06NOV05. I know many are asking, "Is this the last newsletter?" I can't be 100% certain if this will be the last one or not. Soon we will be down to one computer for the entire team. But, I will make it my mission to at least publish one more. With our current situation of trying to pack and transition the new unit into the goings-on here, we were only able to get out three times this week. We had good visits and we found an area that has been grossly neglected, especially by its neighbor who happens to be the most important and influential Sheik in this area. These people live in deplorable conditions and it angered me to see it. These people work for the Sheik and you would think he would try and take care of them better. Another thing that really got my blood pressure going was our commander worked out some back alley drug deal to get electricity run to the Sheik's "Castle." Yes, I said CASTLE. That's money we could have used for a larger project that would have benefited many people, not some wealthy Sheik. Did I mention the Sheik's son is on the Iraqi National Assembly and a vocal supporter of Muqtada Al Sadr? Yes, the same Muqtada Al Sadr who sent thousands of his devout followers into Najaf to kill American soldiers and Marines in April '04. For some reason this Iraqi government official has some "juice" with our commander. Now answer me this, why if you are on the National Assembly and your father is a big Sheik would you need the Americans to fund an electrical project that would only benefit your family? Growing up in Texas I learned, if it smells like BS, it is. Ok, we didn't fund the entire project, they paid an undisclosed amount and we paid $12,000. Of course Delshad and Ala'a were extremely angered when they learned of this "project." Ala'a told me, "This is exactly how the Ba'ath Party worked when Saddam was in power. They only looked out for each other and never took care of the poor people."
As I write this newsletter, I find myself at a loss for words. I know many of you who know me are probably saying, "No way, he always has an opinion about something." I can never express the utmost gratitude I feel for all of you who have been with us pretty much from the beginning and those who recently climbed aboard. For me it has been a fun ride. Sometimes bumpy, sometimes hairy, but nonetheless fun. I would like to think we have influenced not only this generation of Iraqis, but many to come. One of the headmasters of a new school we had built in the south told me, "I will tell everyone for generations that the Americans came here and freed us from a tyrant, and then built this beautiful school." Many people will go through life not knowing how it feels to help a total stranger. I have a team full of guys who can go home and feel good about themselves, knowing they helped thousands of people. I have developed a better appreciation for what I have. This is not my first trip to a war-torn area, but it is my first to see how severe the poverty situation is here. It's hard to believe we live in the 21st Century and people still live this way. We take so much for granted in the states; running potable water, electricity, food, warm clothing, etc. The rural Iraqis make due with what they have and rarely complain, mostly out of fear ingrained after three decades of terror and control. Fear that someone will come in the night and take them away, never to be heard from again.
I ask everyone who can, before the holidays, go through your closets and toy boxes. Clear out those clothes you rarely or never wear. Clean those old shoes and part with some of the toys you never play with. Donate them either to the Red Cross or a local Church group. Not only are there people in need of those items here in Iraq but also in America. If you choose to send them here, I would recommend finding an organization with the ability and contacts to send them to a unit here. The Holiday Season is rapidly approaching; show what the true meaning of the season is all about, sharing with others less fortunate.
Welcome to the "First Timers" receiving the newsletter. I hope you enjoy it and feel free to pass it around to as many people as you would like, that's what it's here for. Thanks for the continued support of the troops; we truly appreciate all the letters of encouragement, e-mails, and boxes. I will be more than happy to entertain any and all questions, comments, or requests. Finally, "if you can read this, thank a teacher, if you can read it in English, thank a Veteran." Have a good week and Hook'em Horns, Paul.
"The United States fully accepts the profound truth that our own progress, prosperity, and peace are interlocked with the progress, prosperity, and peace of all humanity."
– Herbert Hoover
Just in case there are some of you out there who have no idea who we are, here is a team photo so you can put a face with names. Standing on the hummers holding the Texas Flag, SPC Khan and SPC Blanchard, standing l/r; SSG Pena, SSG Farr, 2LT Colicher, SSG Wasson, SFC Loud, and SPC Moses, kneeling is our Iraqi Interpreter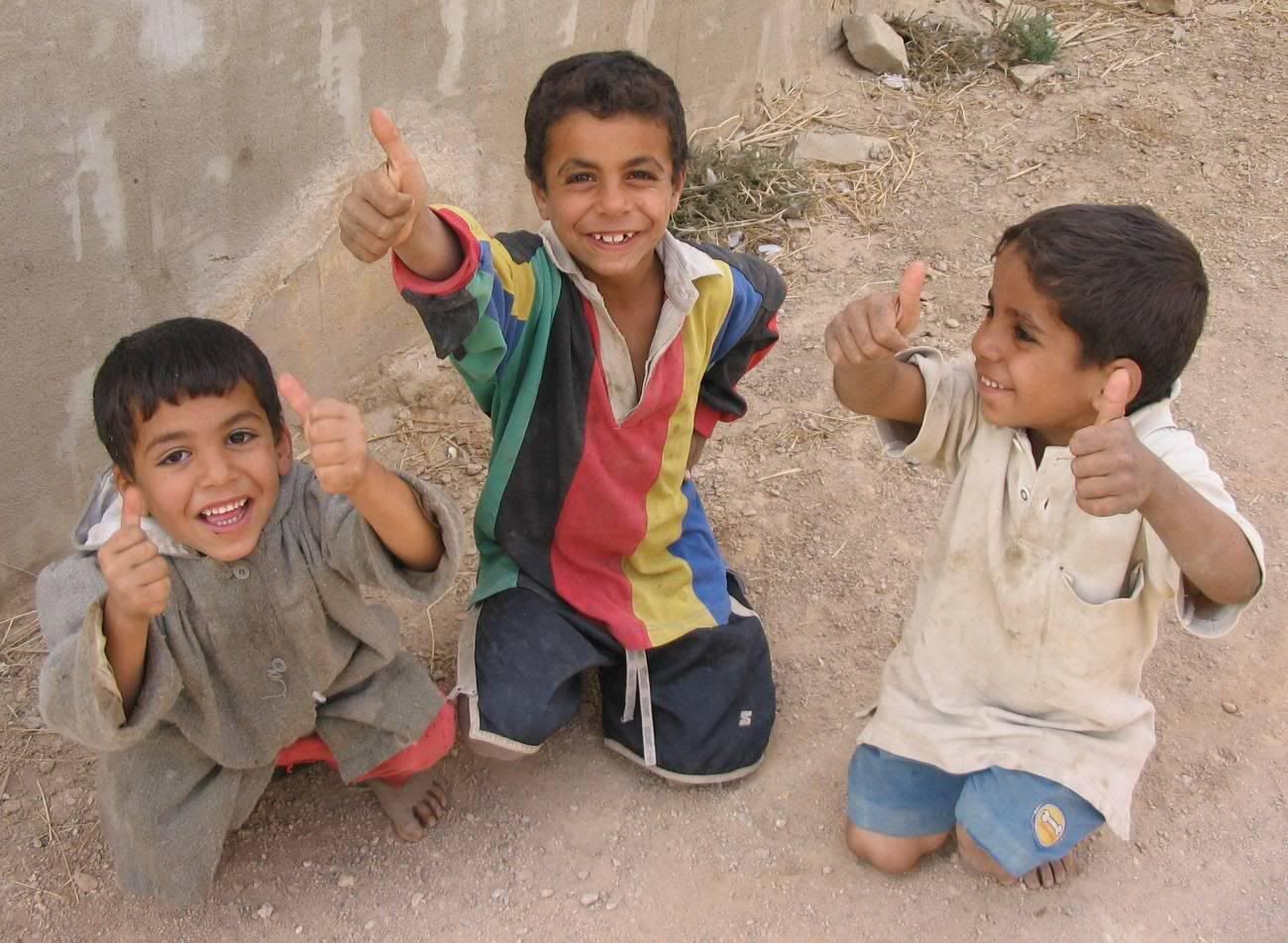 The little guy in the middle is Mustafa and he sort of latched on to me when we visited the "Castle." I tried to get him to come to me but he wouldn't. He speaks English very well for a 7 year old but he couldn't tell me in English that he wasn't really allowed inside the walls of the "Castle." I learned from him that the kids that live outside the wall as well as the workers of the land aren't allowed inside the walls, the Sheik doesn't allow it. Well that ticked me off and so for the next 30 minutes after that SFC Loud and I "smuggled" bottles of water and a case of MREs to him. It was funny to watch these three carry water to their house and then run back for more. The little one to the right of Mustafa is Ahmed and to his left is Amir…31OCT05
CPT Upperman asked us to take him out one last time so he could distribute some crayons and small toys that were donated to him. Since he is one of the only other LONGHORN fans with me here and a UT Alumni, we obliged his request…03NOV05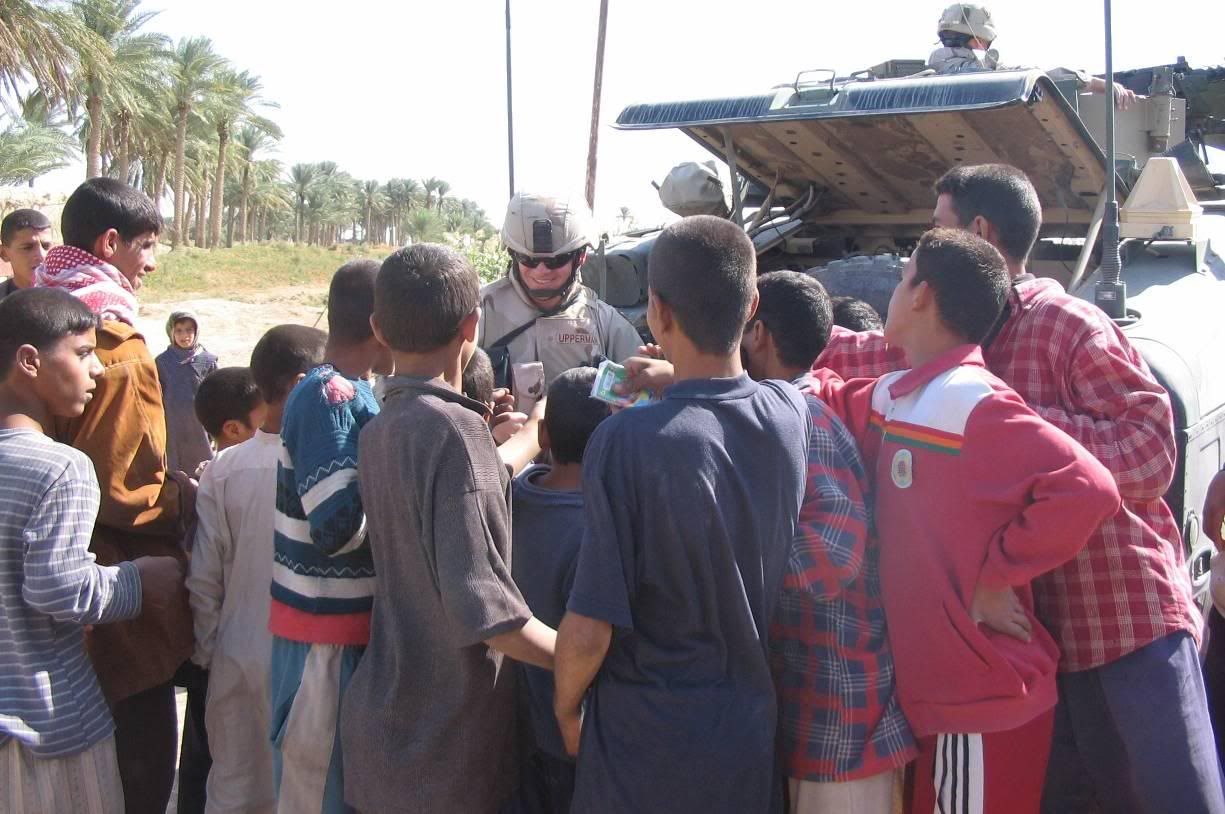 The kids have learned the game pretty well, if you see a GI walking towards the rear of a humvee, it's 9times out of 10 that he has something in the back that is about to be handed out. Then it's survival of the fittest to see who can be the first in line. You could be handing out bags of air and they wouldn't care. Just the site of us walking to the back is of a humvee is cause enough to incite a riot.
While everyone else was enjoying themselves handing out stuff, SFC Loud and I were stringing up concertina wire at the request of the headmaster. The perimeter wall had fallen down after years of neglect and the majority of the bricks had been carted away for other uses. With not much of a wall left, farm animals and dogs were able to just walk into the school yard and sometimes into the classes, thus disrupting class. The headmaster asked for help some time back and I was finally able to lay my hands on some wire. It's a quick fix until the villagers can get this school on the priority list to get refurbished. This group of kids was a little upset, "How can we play football (soccer) now?" For those of you who have had the misfortune of dealing with concertina wire, I shredded a pair of gloves on this trip.
While CPT Upperman was busy with his project and SFC Loud and I were busy with ours, SPC Blanchard was busy seeing to the health needs of the village. On this day he treated 40 civilians with various minor ailments. It was the first time he treated people alone, but he performed in the same professional military manner as he usually does.
………….and of course, there are the nosy neighbors who just have to see what's going on.
Not the best picture, but you get the idea of what the "Castle" looks like…03NOV05
...and this is where Mustafa, Ahmed, Amir, and several other kids and their families live. Sure they have a roof over their head, but that's it. They have no running water, no electricity, and no heat in the winter time. The building you see on the right is where they cook their food and store fuel for the fires. This is the only picture of their houses I took, I didn't want to be disrespectful and make it look like I was looking down on them. The may not have much, but they are proud of what they do have.
Of course my buddy Mustafa was the first in line to get his toy. The Apache Corporation from Houston donated two boxes of toys and school supplies. We successfully handed out one box on this visit and will distribute the other in an up-coming mission.
There were right at 20 children in this village, just enough for each child to get two toys.
Even the women of the village came over to get toys for the babies. This was one of those rare occasions where the women came right up to us without covering their faces. It was a welcome surprise after looking at these knuckleheads day after day. It was nice to see a pretty face.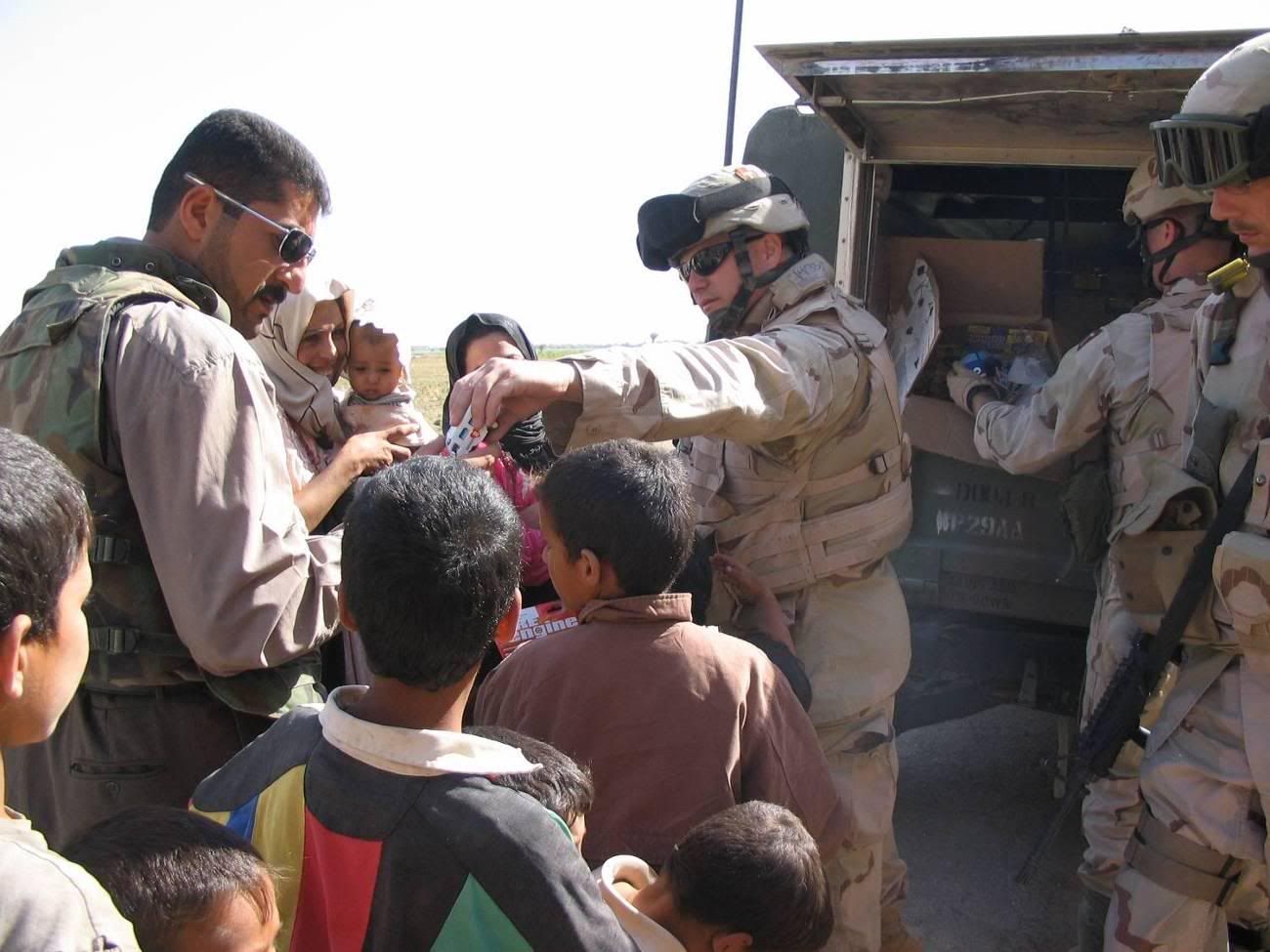 SSG Farr handing out some of the toys donated by the Apache Corporation. I wish to thank Tyra Randall with the Apache Corporation and her hard work putting together a toy/school supply drive. Those donated items are shown in these past few photos. I would also like to thank the many people who donated or helped Tyra in any way. Your generous contributions helped bring a smile to several Iraqi children's faces on this day…03NOV05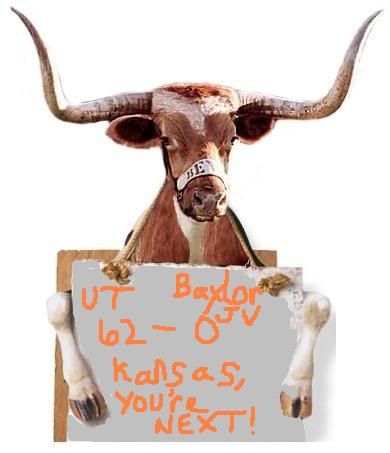 Congratulations Longhorns on another impressive game. I think you held back though. Kansas, just forfeit now and save yourself the same fate as Baylor. If not, I guess the boys will just paddle your backsides too.
I wanted to thank Mike Lubke on the good job he is doing with the site. I would also like everyone to get a different perspective of what is going on here, told by two Iraqis living in Baghdad. I think you'll find this site informative and will open your eyes a little more than what I have been able to do. It is listed below with the other sites. They put a plug for Mike's site on their site, so I told them I would return the favor.
iraqitruthproject.com (newly added)
Iraqi site(s):
iraqthemodel.blogspot.com (newly added)
Thursday, November 03, 2005


3rd/112th Armor BN (FIST)
Panther S-5 (Civil Affairs Team)
56th Brigade Combat Team
36th Infantry DIV (Texas National Guard)
Central Iraq
WEEKLY ROLL-UP
131,429 people around the world. That's the latest estimate of people receiving the newsletter as of Sunday, 30OCT05. I wanted to start off this week's newsletter by thanking everyone again for your Patriotism, continued support of the troops, and for your help in getting our word out. You all have truly made this deployment more enjoyable than you will ever know, at least for me. Since I'm the only knucklehead on the team to volunteer to come to Iraq, I have no reason to complain. When I first learned I was chosen to go to the Civil Affairs course at Ft Bragg in September 2004, I was just a little ticked off. I had volunteered to come over here to lead troops into combat, to find the enemy and kill him, plain and simple. Little did I know how important Civil Affairs is in today's Global War on Terrorism. The day to day interaction with the Iraqi people changed my perception of them. I owe that mostly to my two interpreters, Ala'a and Delshad. They have opened my eyes to so much about the Iraqi culture that you could never learn in books.
Unless you are "boots on the ground" in Iraq and interacting with the population you just have no idea. The people stuck on the FOB's (Forward Operating Bases) play an important role here. Unfortunately, for them they spend their entire time on the base camp and their only perception of Iraq is that it really sucks, especially when you receive in-coming fire from an unseen enemy. I like to think the team is mostly responsible for the over all safe environment we enjoy here in our AOR (Area of Responsibility). We have brought electricity to several thousand people for the first time, in the process of bringing clean water to thousands more people for the first time, and repairing schools that will benefit generations to come. Not to mention, we have employed hundreds of more Iraqis either here on our base camp or at the different project sites. No too shabby for a bunch of guys thrown together in May and told to "go forth and do good things."
Everyone is already aware the Iraqi Constitution passed with a record turn out. As I stated last week, even if it had not passed it still would have been a victory for the democratic process. The next hurdle for this monumental year will be the election in December of a new, full-term parliament. President Bush summed it up nicely, "The Iraqis are making inspiring progress toward building a democracy. By any standard or precedent of history, Iraq has made incredible political progress, from tyranny to liberation to national elections to the ratification of a constitution in the space of two and a half years." Could you imagine three major national elections in one year in America? Most people get bent out of shape over one every four years.
"In the name of my peoples, I'd like to thank all…the American people for the sacrifices [for liberty]. The American nation should be deeply proud of its sons and daughters who have worked hard and who have fought hard for the best values of liberation and democracy in Iraq. With such tremendous morale, with such sometimes terrible injuries, they have braved tremendously and they bear their suffering for the sake of humanity, liberation and democracy. I would like to say to these patients and to the American people that these sacrifices have not gone in vain. Indeed we shall have a world that is free from terrorism and where the human right and democracy are respected." –Iraqi Prime Minister Ibrahim al-Jaafari, after his visit to Walter Reed Army Medical Center in Washington.
Welcome to the "First Timers" receiving the newsletter. I hope you enjoy it and feel free to pass it around to as many people as you would like, that's what it's here for. Thanks for the continued support of the troops; we truly appreciate all the letters of encouragement, e-mails, and boxes. I will be more than happy to entertain any and all questions, comments, or requests. Finally, "if you can read this, thank a teacher, if you can read it in English, thank a Veteran." Have a good week and Hook'em Horns, Paul.
We Americans of today, together with our Allies, are passing through a period of supreme test. It is a test of our courage-of our resolve-of our wisdom-our essential democracy. –Franklin D. Roosevelt
Just in case there are some of you out there who have no idea who we are, here is a team photo so you can put a face with names. Standing on the hummers holding the Texas Flag, SPC Khan and SPC Blanchard, standing l/r; SSG Pena, SSG Farr, 2LT Colicher, SSG Wasson, SFC Loud, and SPC Moses, kneeling is our Iraqi Interpreter
Unfortunately, we were only able to go out once this week. However, we did have a good day and the medics treated 70 civilians with various ailments. Pictured here is SSG Pena checking the blood pressure of an Iraqi man who suffered a stroke earlier in the year.
These two little girls were just sitting quietly watching what we were doing during one of our "road-side medicine" stops. Normally, as you'll see in following pictures, if we stop for more than a few minutes we are swarmed with children of all ages begging us to either take their pictures or give them pens, pencils, toys, soccer balls, etc. These two were the exception.
SSG Pena with the help of our Iraqi Interpreter explains to an Iraqi civilian how to take medicine for an upset stomach. On this particular stop the chief complaint by the civilians was upset stomach. As I have explained in previous issues, many of the ailments of the Iraqi civilian population, especially in the rural areas, are intestinal problems. Much of this can be prevented with proper personal hygiene practices, but another cause is the non-availability of potable water.
The soldier in the green uniform is SPC Cole. He is a medic with the 1/108th AR, 48th INF BDE from Georgia. This is the unit replacing us in a few weeks. We decided to take him and several others from his unit out and get them familiar with the area. They were stationed up north and took several casualties, so coming down here is a great relief for them. We have been explaining to them that the work our team has done in this area has helped make the area safe. Villagers are taking responsibility for their security and keeping the insurgents out. That to me is a major victory, when the locals take pride in their country and deny the insurgents safe passage and a safe-haven.
This is a picture taken the middle of July of a little guy's finger that suffered an electrocution burn to his left middle finger. The injury occurred about one month prior to this photo. The parents had taken the boy to a local clinic and the medical attendants told them there was nothing they could do. They said if they were to treat the injury the boy would get diabetes or cancer and die. Fearing those words, the parents opted to take the boy home and let "Allah" (God) do what he would with the boy.
We checked back on him about a month later and the finger looked better. The parents took him to an actual hospital and they were able to treat it. However, the Iraqi doctors placed a metal pin into the finger in an attempt to straighten the bone. This is a photo of SPC Blanchard cleaning and dressing the finger. He took the time to explain to the grandmother the steps necessary to clean it and bandage it.
Unfortunately, their attempt did not help. This picture was taken earlier today (Sunday, 30OCT05).
When he found out we were in the village looking for him, he ran from almost 1 kilometer to see us. Although his finger is deformed, he is just as happy as any other 8 year old.
SSG Pena and one of our Iraqi Interpreters discuss the health of this little guy. According to his father, he was treated for Jaundice when he was younger. The father fearing he was suffering from it again brought him to us shortly after our arrival in the village.
Due to the size of his stomach and other visible symptoms, SSG Pena believes this little guy now suffers from a large tape worm. But without being able to run necessary tests, he is not 100% positive.
Remember what I said earlier about stopping for more than a minute and being swarmed with kids. Here is just one instance we found ourselves in on this mission. As long as the children and adults are content with coming up to us and laughing and smiling and generally being friendly, I'm happy. I mentioned some of the Georgia boys came with us this day. They were extremely surprised how friendly the people are here. Everywhere we drove the school children walking to school stopped and waved. One of the guys mentioned how nobody ever waved at them and the only time they ever raised their arm it was to throw rocks.
SSG Crump with the 1/108th AR, Georgia National Guard is seen taking in the surroundings..."Yep, this is definitely better than where we were," he commented to me.
This little Iraqi boy had the worse case of trench foot any of us had ever seen. It was so bad he had to be carried to the make-shift treatment table. SSG Pena is shown cutting away some of the dead skin.
SSG Pena continues to cut away the dead skin as SPC Cole applies a dressing to the other foot. Many of the Iraqi children choose not to wear shoes unless they are going to school. Because they regard their shoes as something of necessity, they don't want to ruin them by playing outside in them. They would rather go barefoot than ruin their shoes, causing their parents to have to spend money on something other than food or fuel.
We have received several boxes of donated items from different people this week. I assure you the items will be distributed accordingly within the next couple of weeks. Right now is a period of slow transition for us and we're not able to go out as often as I would like or anticipated. We are still in the tunnel, but starting to see little slivers of light. Many prior service members and war veterans know the most dangerous time of a deployment is the end, when troops begin to get complacent and think of things other than the mission at hand. I assure you, we continue to serve in the same professional military manner as when we first arrived. The guys are motivated to get home, but more motivated to get there in one piece…but only after our mission is complete and we're told to get on the plane.
You know it was coming; How about them 'Horns? All I can say is they are having an awesome year. All you other fans have your teams, but this year is the 'Horns year. Oklahoma State, nice try, but go back to the drawing board and try again next year.
This picture was sent to me by a proud mom and fellow Longhorn Fan. When she read one of my newsletters and realized how big a fan I am, she sent this and other pictures of her two boys. Shown here are Devin & Kelvin Cooper and the Coach of the Texas Longhorns, Mack Brown. Thanks for the picture and Hook 'em Horns.