Sunday, November 06, 2005

3rd/112th Armor BN (FIST)
Panther S-5 (Civil Affairs Team)
56th Brigade Combat Team
36th Infantry DIV (Texas National Guard)
Central Iraq
WEEKLY ROLL-UP
135,603 people around the world. That's the latest estimate of people receiving the newsletter as of Sunday, 06NOV05. I know many are asking, "Is this the last newsletter?" I can't be 100% certain if this will be the last one or not. Soon we will be down to one computer for the entire team. But, I will make it my mission to at least publish one more. With our current situation of trying to pack and transition the new unit into the goings-on here, we were only able to get out three times this week. We had good visits and we found an area that has been grossly neglected, especially by its neighbor who happens to be the most important and influential Sheik in this area. These people live in deplorable conditions and it angered me to see it. These people work for the Sheik and you would think he would try and take care of them better. Another thing that really got my blood pressure going was our commander worked out some back alley drug deal to get electricity run to the Sheik's "Castle." Yes, I said CASTLE. That's money we could have used for a larger project that would have benefited many people, not some wealthy Sheik. Did I mention the Sheik's son is on the Iraqi National Assembly and a vocal supporter of Muqtada Al Sadr? Yes, the same Muqtada Al Sadr who sent thousands of his devout followers into Najaf to kill American soldiers and Marines in April '04. For some reason this Iraqi government official has some "juice" with our commander. Now answer me this, why if you are on the National Assembly and your father is a big Sheik would you need the Americans to fund an electrical project that would only benefit your family? Growing up in Texas I learned, if it smells like BS, it is. Ok, we didn't fund the entire project, they paid an undisclosed amount and we paid $12,000. Of course Delshad and Ala'a were extremely angered when they learned of this "project." Ala'a told me, "This is exactly how the Ba'ath Party worked when Saddam was in power. They only looked out for each other and never took care of the poor people."
As I write this newsletter, I find myself at a loss for words. I know many of you who know me are probably saying, "No way, he always has an opinion about something." I can never express the utmost gratitude I feel for all of you who have been with us pretty much from the beginning and those who recently climbed aboard. For me it has been a fun ride. Sometimes bumpy, sometimes hairy, but nonetheless fun. I would like to think we have influenced not only this generation of Iraqis, but many to come. One of the headmasters of a new school we had built in the south told me, "I will tell everyone for generations that the Americans came here and freed us from a tyrant, and then built this beautiful school." Many people will go through life not knowing how it feels to help a total stranger. I have a team full of guys who can go home and feel good about themselves, knowing they helped thousands of people. I have developed a better appreciation for what I have. This is not my first trip to a war-torn area, but it is my first to see how severe the poverty situation is here. It's hard to believe we live in the 21st Century and people still live this way. We take so much for granted in the states; running potable water, electricity, food, warm clothing, etc. The rural Iraqis make due with what they have and rarely complain, mostly out of fear ingrained after three decades of terror and control. Fear that someone will come in the night and take them away, never to be heard from again.
I ask everyone who can, before the holidays, go through your closets and toy boxes. Clear out those clothes you rarely or never wear. Clean those old shoes and part with some of the toys you never play with. Donate them either to the Red Cross or a local Church group. Not only are there people in need of those items here in Iraq but also in America. If you choose to send them here, I would recommend finding an organization with the ability and contacts to send them to a unit here. The Holiday Season is rapidly approaching; show what the true meaning of the season is all about, sharing with others less fortunate.
Welcome to the "First Timers" receiving the newsletter. I hope you enjoy it and feel free to pass it around to as many people as you would like, that's what it's here for. Thanks for the continued support of the troops; we truly appreciate all the letters of encouragement, e-mails, and boxes. I will be more than happy to entertain any and all questions, comments, or requests. Finally, "if you can read this, thank a teacher, if you can read it in English, thank a Veteran." Have a good week and Hook'em Horns, Paul.
"The United States fully accepts the profound truth that our own progress, prosperity, and peace are interlocked with the progress, prosperity, and peace of all humanity."
– Herbert Hoover
Just in case there are some of you out there who have no idea who we are, here is a team photo so you can put a face with names. Standing on the hummers holding the Texas Flag, SPC Khan and SPC Blanchard, standing l/r; SSG Pena, SSG Farr, 2LT Colicher, SSG Wasson, SFC Loud, and SPC Moses, kneeling is our Iraqi Interpreter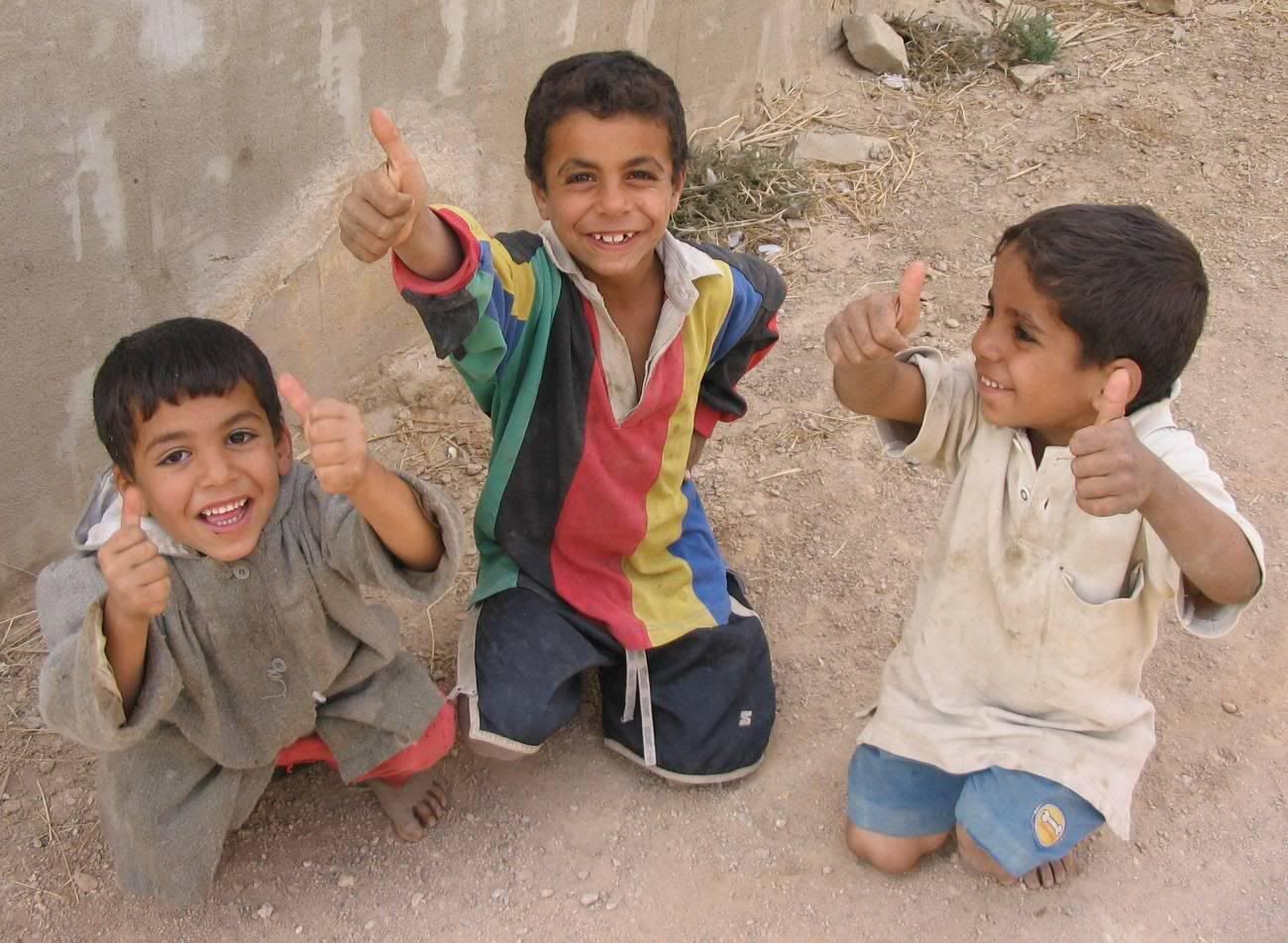 The little guy in the middle is Mustafa and he sort of latched on to me when we visited the "Castle." I tried to get him to come to me but he wouldn't. He speaks English very well for a 7 year old but he couldn't tell me in English that he wasn't really allowed inside the walls of the "Castle." I learned from him that the kids that live outside the wall as well as the workers of the land aren't allowed inside the walls, the Sheik doesn't allow it. Well that ticked me off and so for the next 30 minutes after that SFC Loud and I "smuggled" bottles of water and a case of MREs to him. It was funny to watch these three carry water to their house and then run back for more. The little one to the right of Mustafa is Ahmed and to his left is Amir…31OCT05
CPT Upperman asked us to take him out one last time so he could distribute some crayons and small toys that were donated to him. Since he is one of the only other LONGHORN fans with me here and a UT Alumni, we obliged his request…03NOV05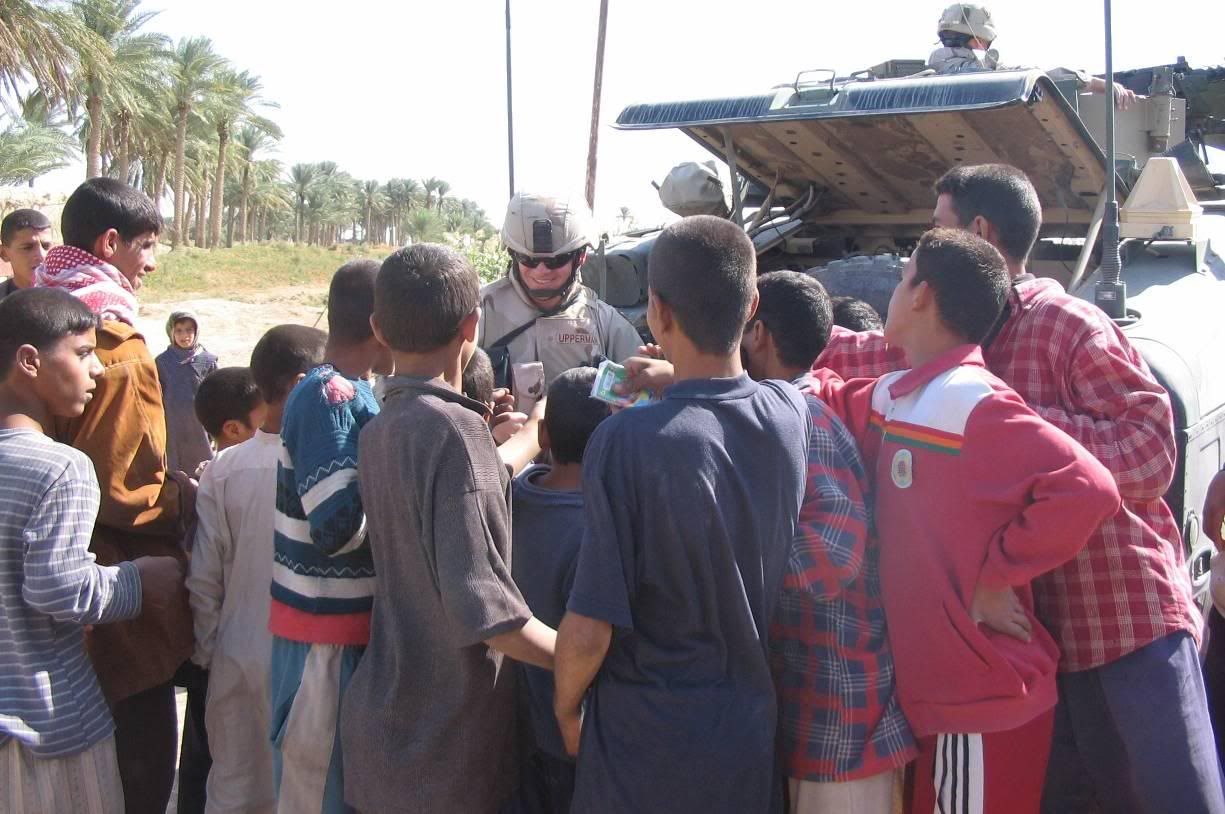 The kids have learned the game pretty well, if you see a GI walking towards the rear of a humvee, it's 9times out of 10 that he has something in the back that is about to be handed out. Then it's survival of the fittest to see who can be the first in line. You could be handing out bags of air and they wouldn't care. Just the site of us walking to the back is of a humvee is cause enough to incite a riot.
While everyone else was enjoying themselves handing out stuff, SFC Loud and I were stringing up concertina wire at the request of the headmaster. The perimeter wall had fallen down after years of neglect and the majority of the bricks had been carted away for other uses. With not much of a wall left, farm animals and dogs were able to just walk into the school yard and sometimes into the classes, thus disrupting class. The headmaster asked for help some time back and I was finally able to lay my hands on some wire. It's a quick fix until the villagers can get this school on the priority list to get refurbished. This group of kids was a little upset, "How can we play football (soccer) now?" For those of you who have had the misfortune of dealing with concertina wire, I shredded a pair of gloves on this trip.
While CPT Upperman was busy with his project and SFC Loud and I were busy with ours, SPC Blanchard was busy seeing to the health needs of the village. On this day he treated 40 civilians with various minor ailments. It was the first time he treated people alone, but he performed in the same professional military manner as he usually does.
………….and of course, there are the nosy neighbors who just have to see what's going on.
Not the best picture, but you get the idea of what the "Castle" looks like…03NOV05
...and this is where Mustafa, Ahmed, Amir, and several other kids and their families live. Sure they have a roof over their head, but that's it. They have no running water, no electricity, and no heat in the winter time. The building you see on the right is where they cook their food and store fuel for the fires. This is the only picture of their houses I took, I didn't want to be disrespectful and make it look like I was looking down on them. The may not have much, but they are proud of what they do have.
Of course my buddy Mustafa was the first in line to get his toy. The Apache Corporation from Houston donated two boxes of toys and school supplies. We successfully handed out one box on this visit and will distribute the other in an up-coming mission.
There were right at 20 children in this village, just enough for each child to get two toys.
Even the women of the village came over to get toys for the babies. This was one of those rare occasions where the women came right up to us without covering their faces. It was a welcome surprise after looking at these knuckleheads day after day. It was nice to see a pretty face.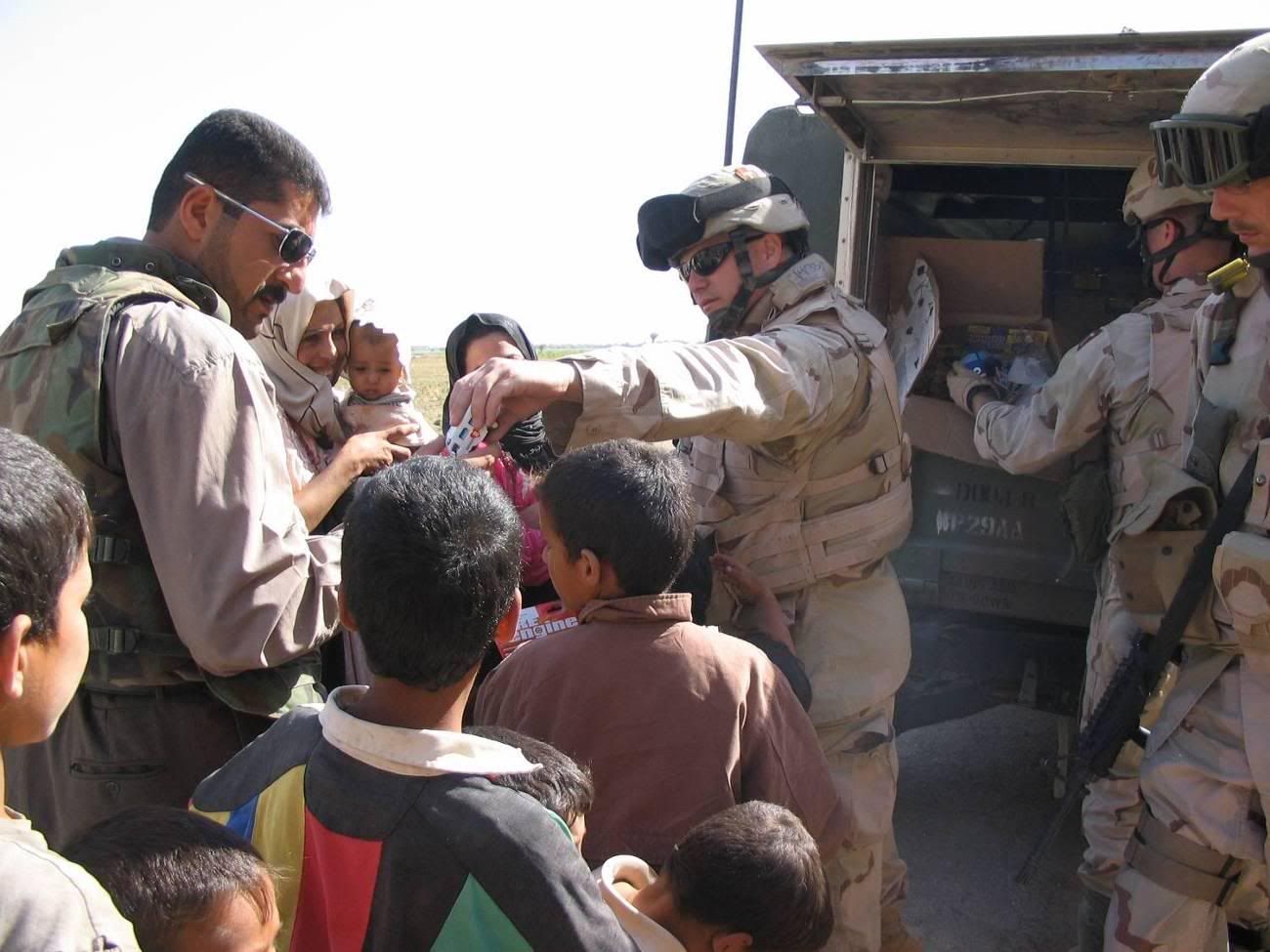 SSG Farr handing out some of the toys donated by the Apache Corporation. I wish to thank Tyra Randall with the Apache Corporation and her hard work putting together a toy/school supply drive. Those donated items are shown in these past few photos. I would also like to thank the many people who donated or helped Tyra in any way. Your generous contributions helped bring a smile to several Iraqi children's faces on this day…03NOV05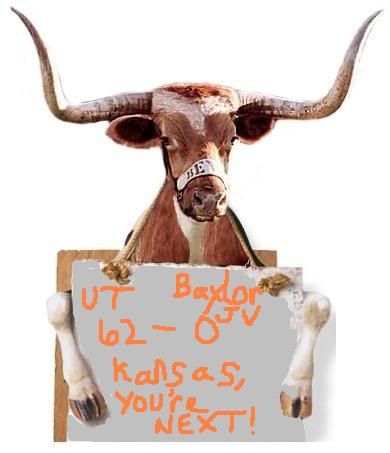 Congratulations Longhorns on another impressive game. I think you held back though. Kansas, just forfeit now and save yourself the same fate as Baylor. If not, I guess the boys will just paddle your backsides too.
I wanted to thank Mike Lubke on the good job he is doing with the site. I would also like everyone to get a different perspective of what is going on here, told by two Iraqis living in Baghdad. I think you'll find this site informative and will open your eyes a little more than what I have been able to do. It is listed below with the other sites. They put a plug for Mike's site on their site, so I told them I would return the favor.
iraqitruthproject.com (newly added)
Iraqi site(s):
iraqthemodel.blogspot.com (newly added)
Comments:
You guys are great. I don't have the words to express just how wonderful I think y'all are doing. Take care and be safe and keep up the great work.
Great pictures, it's nice to see them in full color this time - those reduced-color images were rather ugly. I wish there was some easy way to get water and electricity and sanitation to all of these poor villages. Stopping the constant sabotage of the oil pipelines would help, by bringing more money into Iraq. You guys are doing a great job out there.
Post a Comment
<< Home