Tuesday, October 04, 2005
3rd/112th Armor BN (FIST)
Panther S-5 (Civil Affairs Team)
56th Brigade Combat Team
36th Infantry DIV (Texas National Guard)
Central Iraq
WEEKLY ROLL-UP
111,207 people around the world. That's the latest estimate of people receiving the newsletter as of Sunday, 02OCT05. I wanted to start off by letting everyone know those family members of the team that were in the path of Hurricane Rita, made it through Rita fine. I believe the only one to sustain any damage to their homes was 2LT Colicher. Nothing too serious and it will give him something to do when he gets home. Plus, it was probably a "honey do" project he had been putting off for some time.
The projects are going along very well and we were only able to check on them once this week, all in one day. The two electrical projects are complete and have brought electricity to over 1,200 families. The all-female school is also complete and the students are thrilled to be going again. The other two school projects will be complete in about 10-15 days. The one water gate project is at about 95% completion. The two water sanitation/distribution projects still need work and should be done in about 30 days.
It's funny to walk through camp or in the chow hall and be approached by some of the people I helped get hired to work on our base camp. They always have smiles on their faces and shake my hand, "Shukran (thank you) mista (mister), Shukran." According to my two interpreters, we are the first unit to follow through with a promise to hire people from the area. The first time I went out to gather names from villages for potential work, I was met with harsh looks and skepticism. The old unit did the same thing, but never followed through. The following week when I said, "You and you, can you be at work tomorrow" and then hired them, word spread quickly and before long I was inundated with lists from every Sheik and mayor for 100 square miles. To date we have hired 54 Iraqi civilians and in the process of hiring another 6. Those are 60 lives we have given hope, 60 lives that are able to provide for their families. In addition to those people we hired to work on the base camp, The 9 projects we were able to get funding for and are now various stages of completion, hired approximately 50 people each to work daily. That's approximately 450 additional lives we have changed by helping them provide for their families.
The team escorted the 975th MCT (Movement Control Team) from Los Alamitos, CA to two schools on Tuesday. They will be leaving soon and had several hundred book bags filled with school supplies. As you'll see in coming photos, the children were extremely happy to receive the bags. Out of the two schools, 500 lucky students benefited from generous American donations. In fact, the 975th had bags left over and asked when we could take them out again. More than likely the bags will be left for the next unit to inherit and distribute.
Welcome to the "First Timers" receiving the newsletter. I hope you enjoy it and feel free to pass it around to as many people as you would like, that's what it's here for. Thanks for the continued support of the troops; we truly appreciate all the letters of encouragement, e-mails, and boxes. I will be more than happy to entertain any and all questions, comments, or requests. Finally, "if you can read this, thank a teacher, if you can read it in English, thank a Veteran." Have a good week and Hook'em Horns, Paul.
"No act of kindness, no matter how small, is ever wasted." –Aesop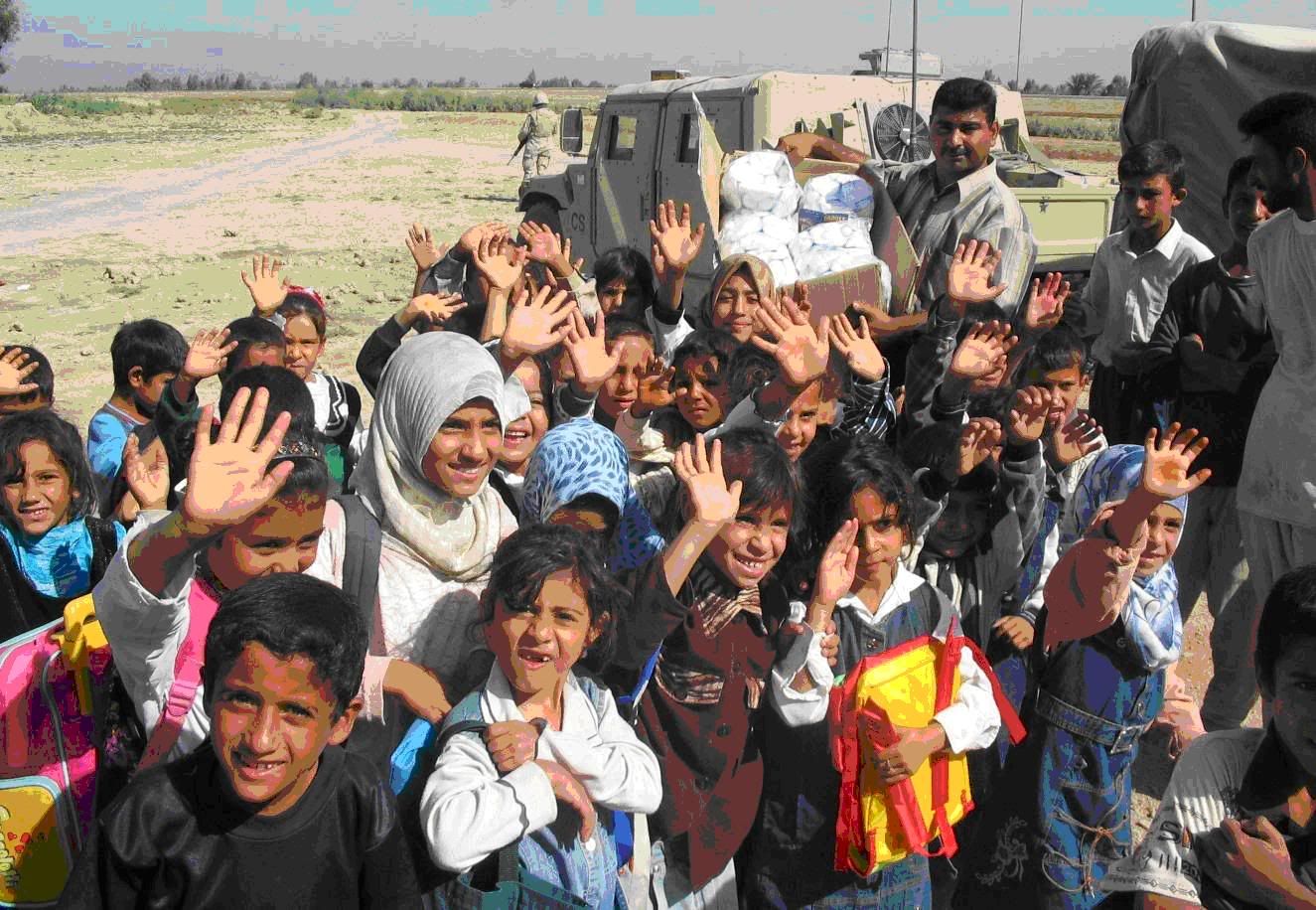 Headmaster and students from one of the two schools visited. Over 400 book bags and 15 soccer balls were donated to this one school alone. This little school has been neglected by the government, both previous and current for a long time. In fact, I believe it's one of the only mud schools remaining in this area…27SEP05
SSG Pena is shown holding a block of mud and straw used to construct many of the buildings in this area, and in this case, the school...27SEP05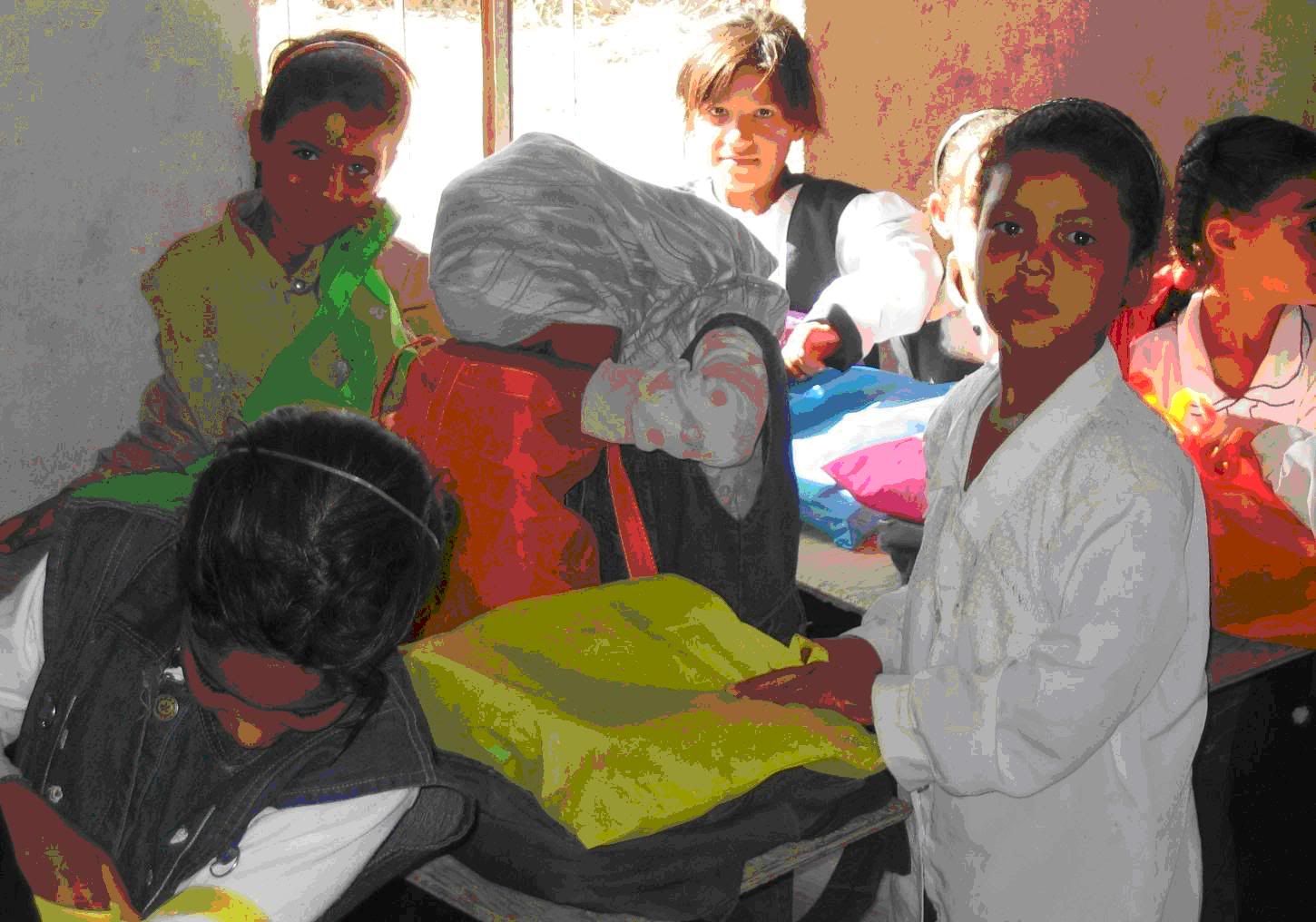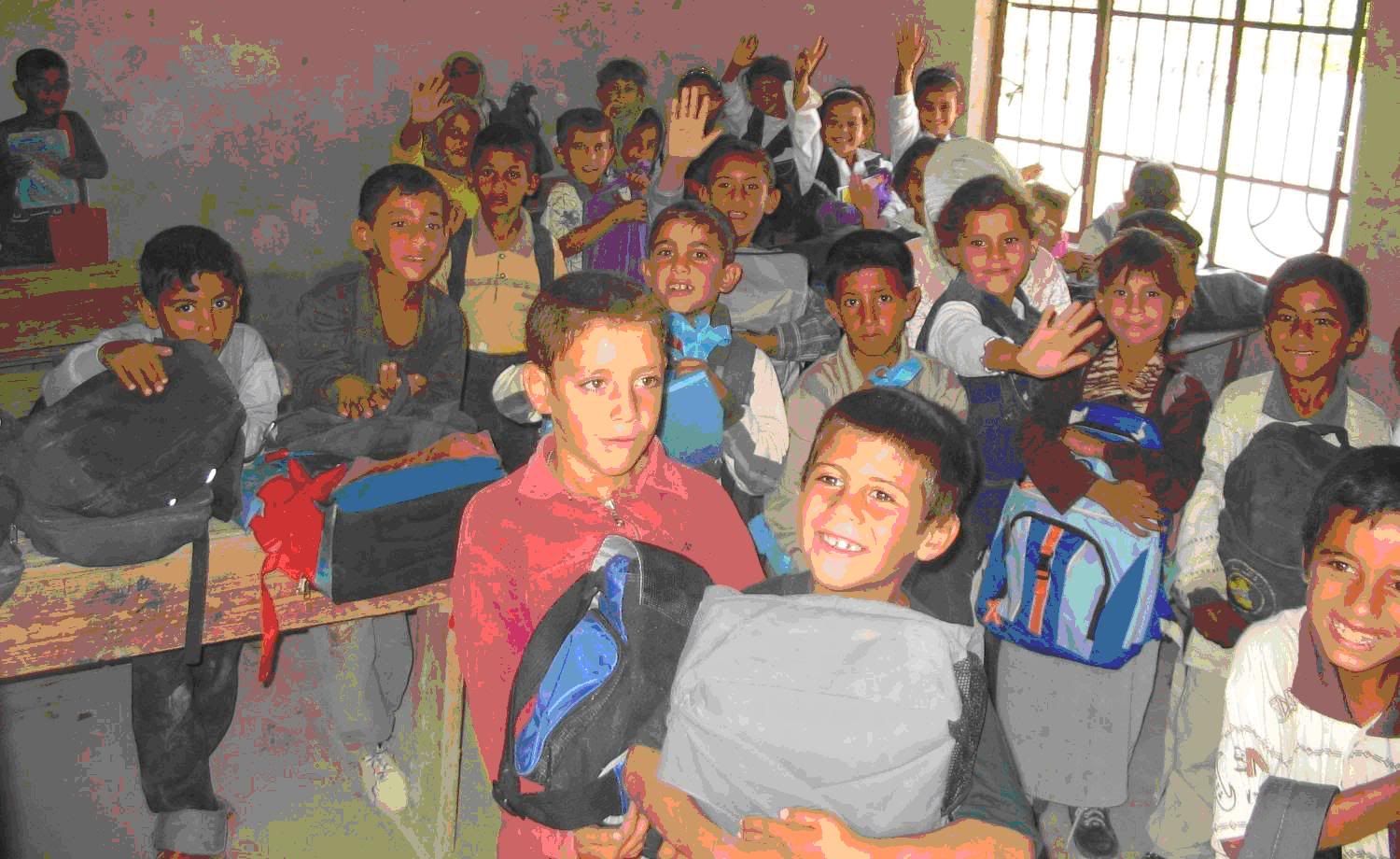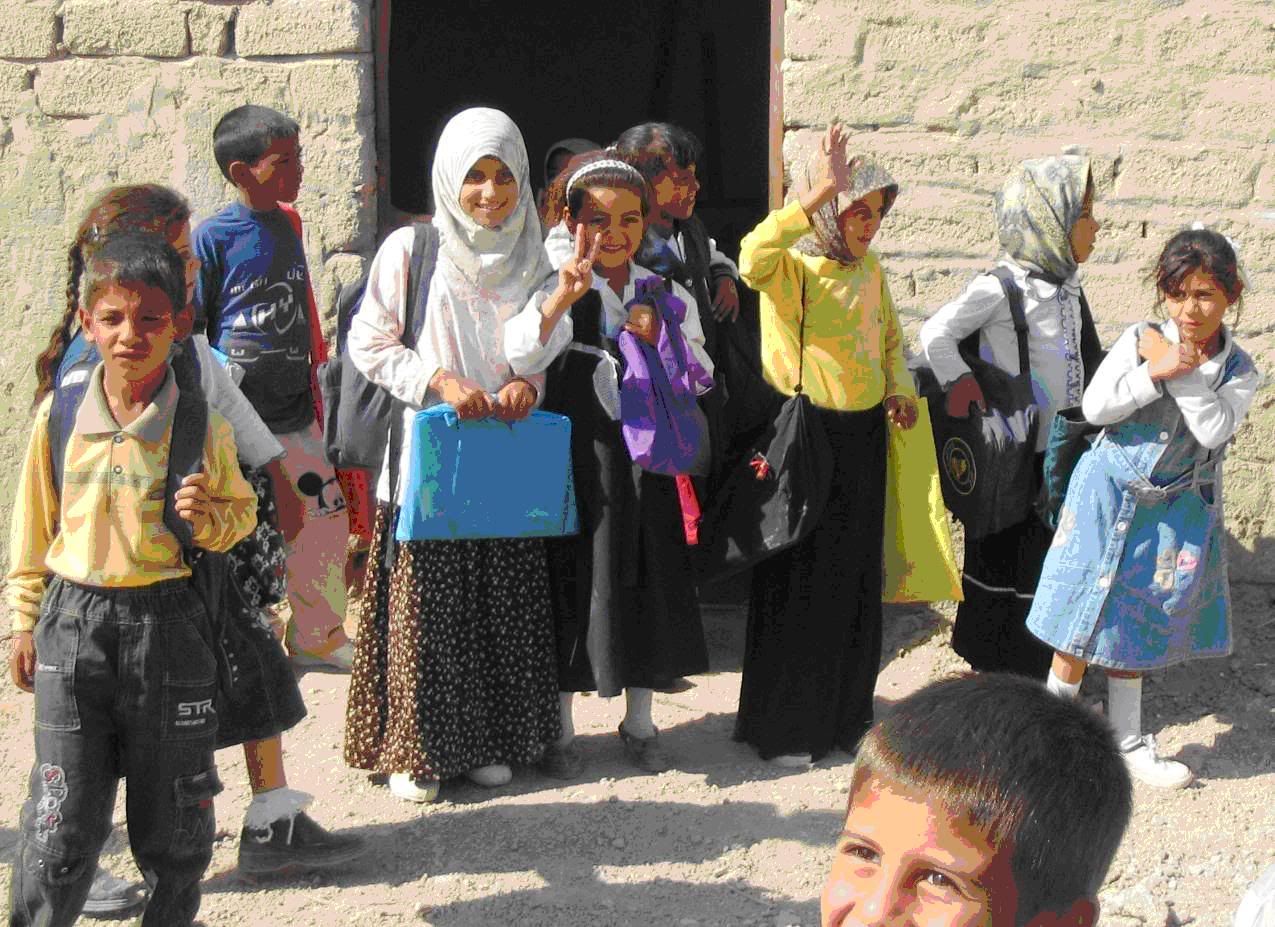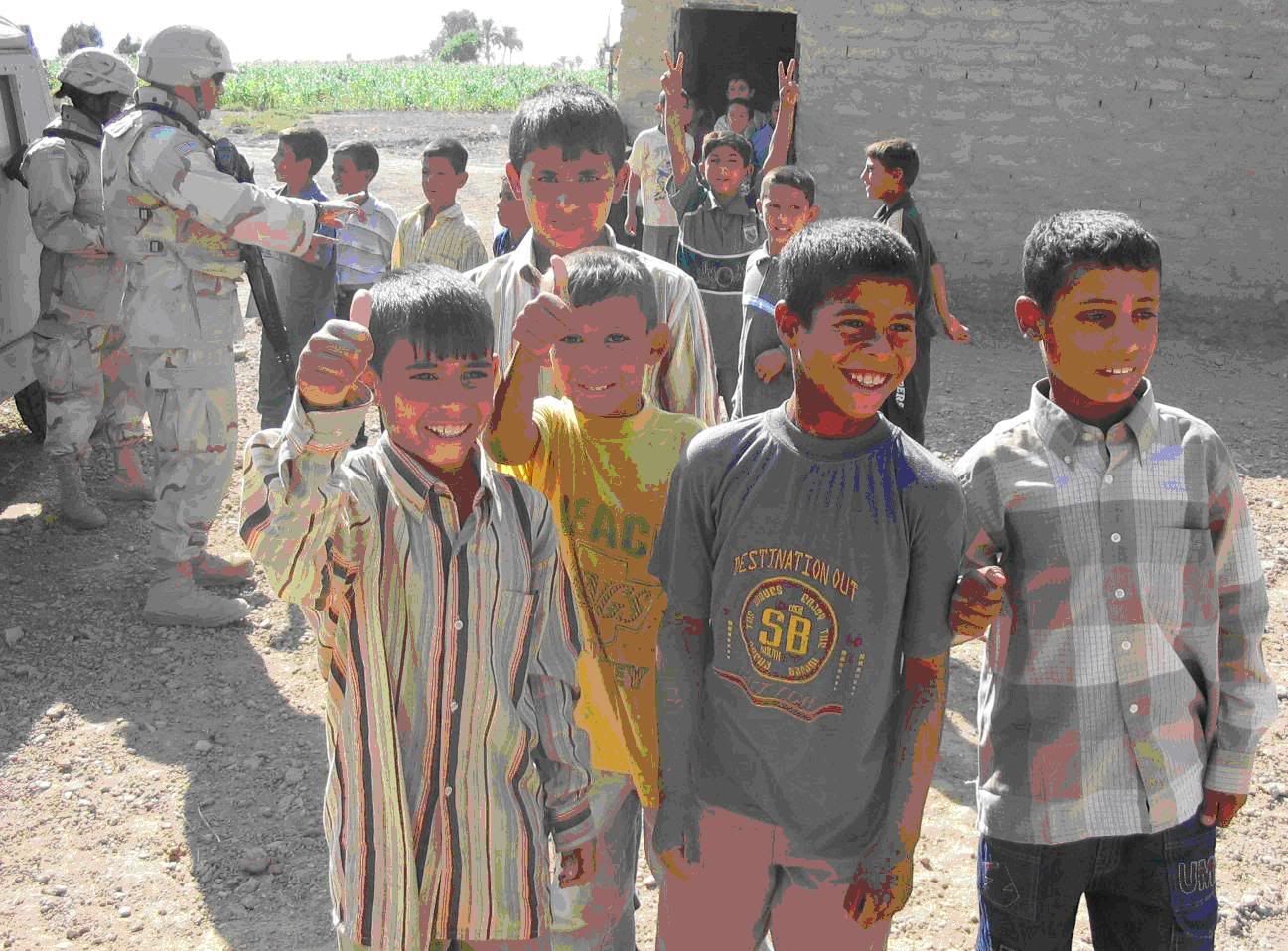 The top few pictures really need no explanations. The children are so excited to see us whenever we show up, whether it is the first time to visit with them, or the one hundredth, their enthusiasm is always the same. Of course these aren't pictures of mutilated children, so the media really doesn't care to show you the happiness and joy the children show for us. Actually, the above photos are cut out card board children we managed to pose in various positions…life-like aren't they?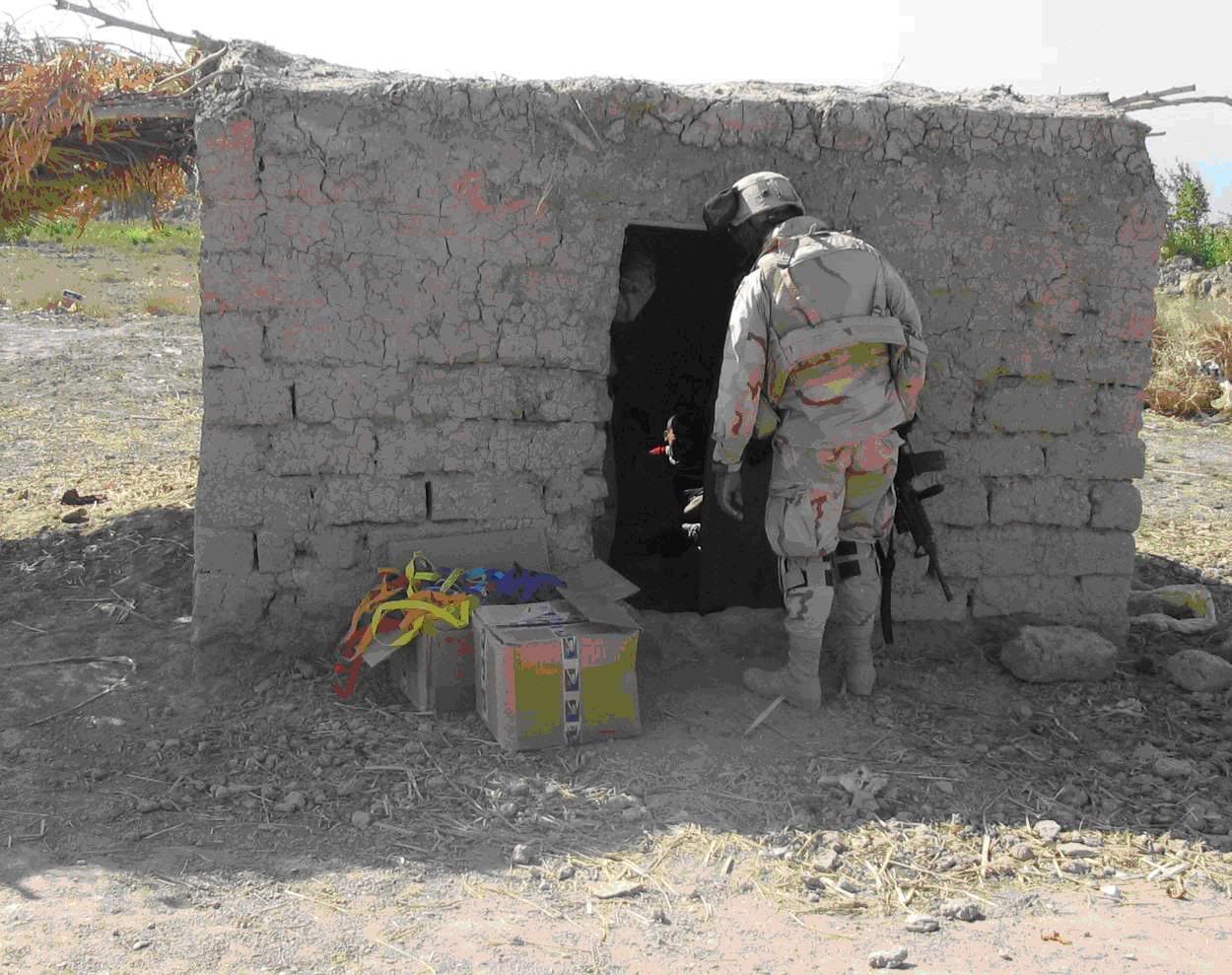 Hey kids, this is a classroom full of Iraqi kids who like to disrupt class. There were 15 kids in there. Parents back home would have a cow if our schools were allowed to discipline our kids like this. I see no problem with it myself. Personally, I would rather be in school than the alternative, working the fields from sun up until sundown. A few issues ago I mentioned once the children are done at school for the day, they go immediately home and go to the fields. School is somewhat of a welcome break for many rural Iraqi children.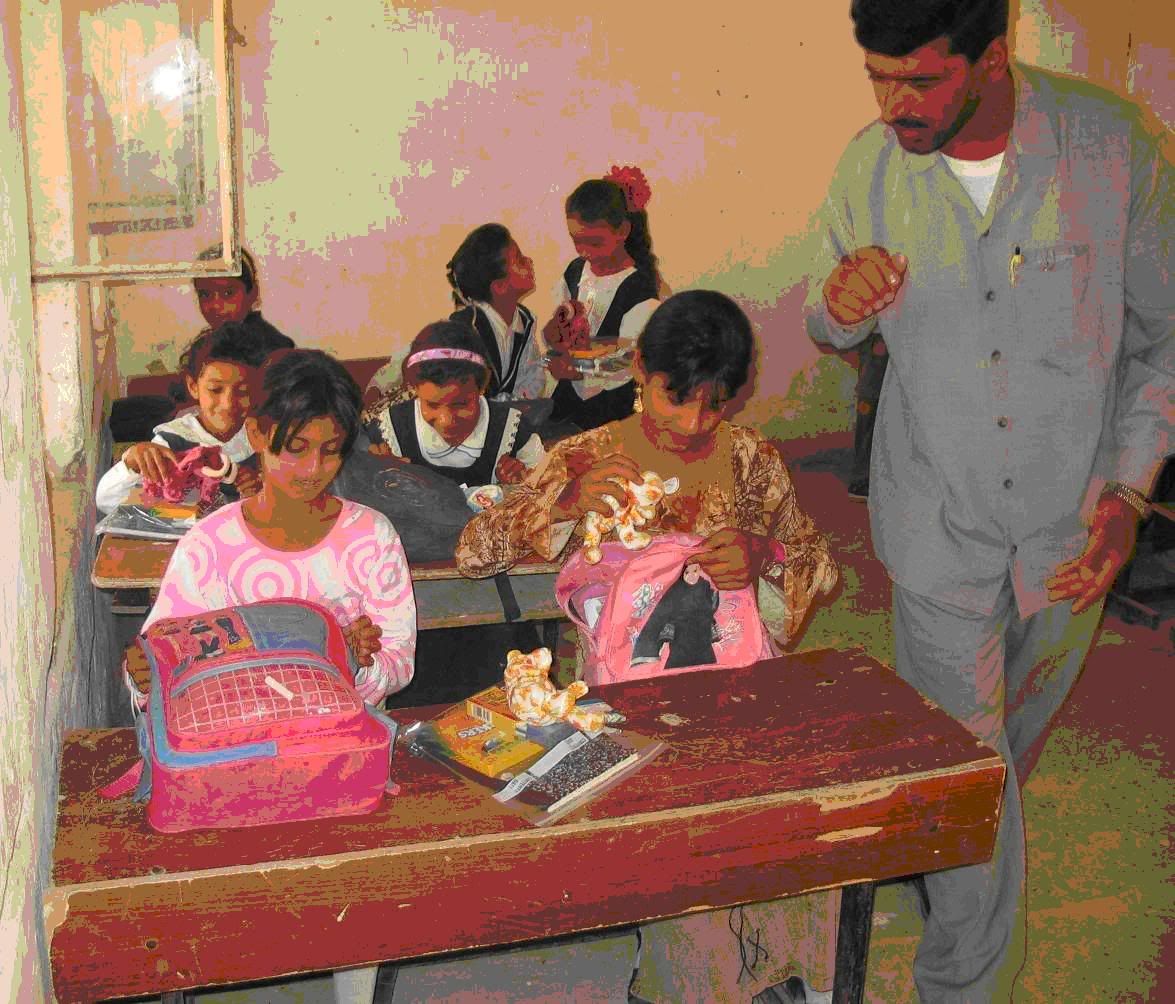 No one was left out, even the problem children got book bags...27SEP05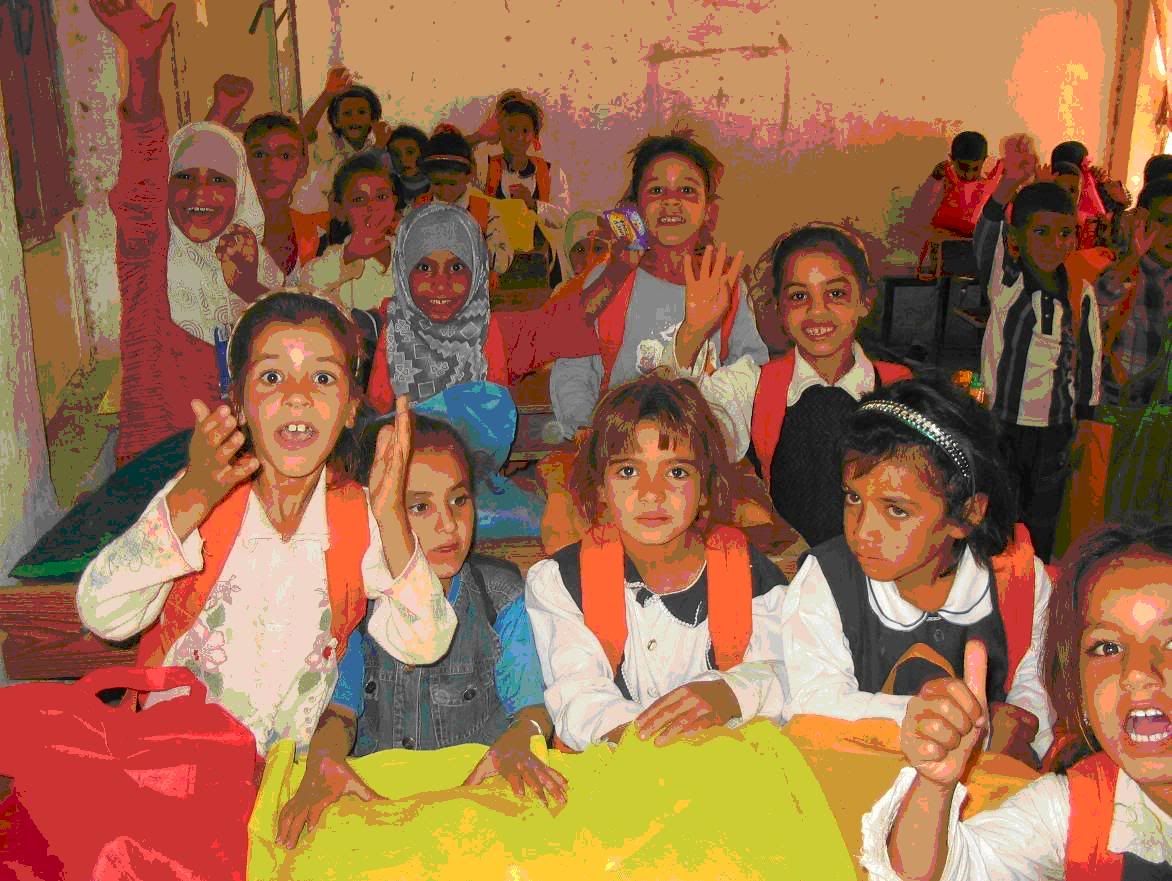 These were taken at the second school...yes, more staged card board cut out Iraqi children…27SEP05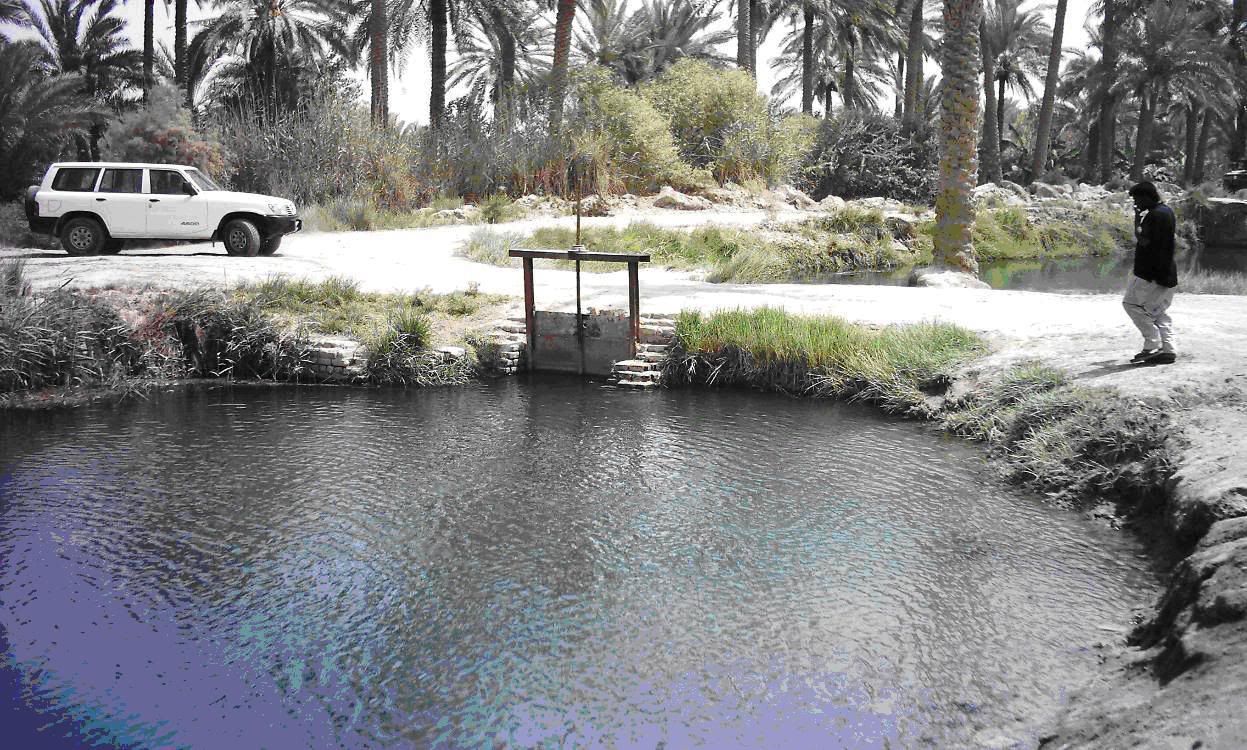 River gate prior to renovation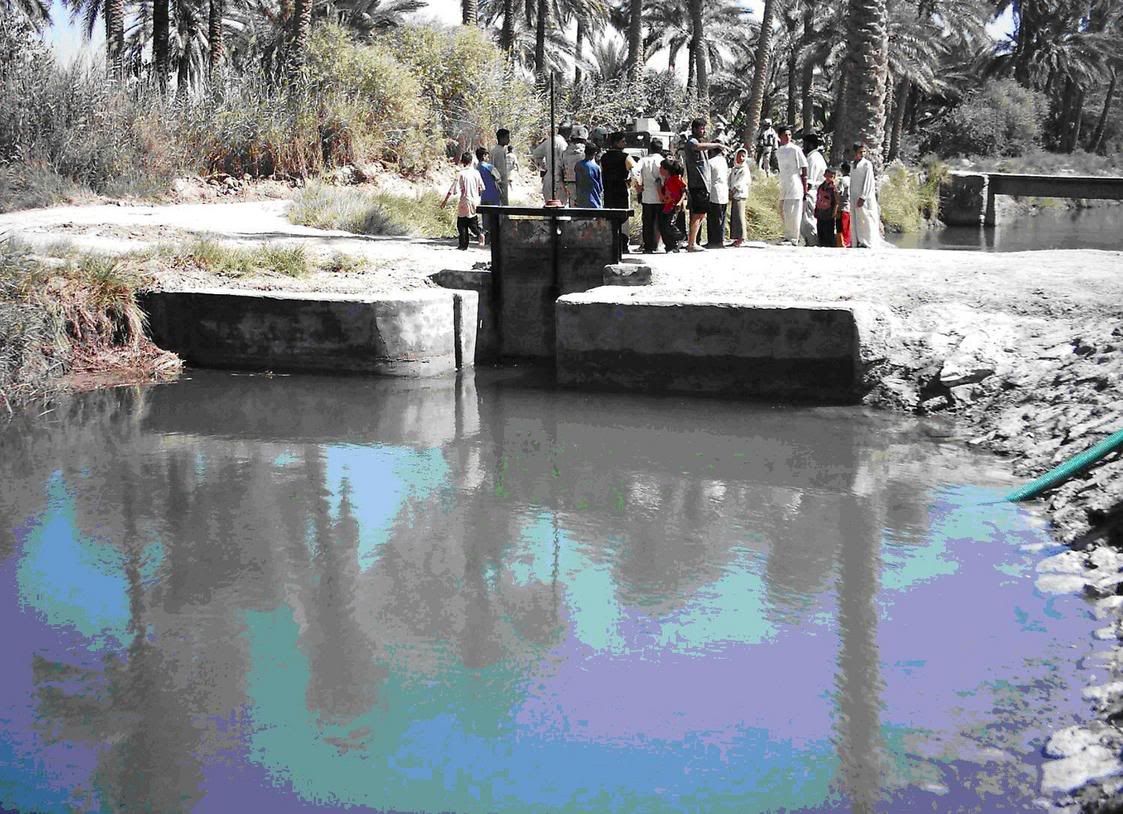 Same gate after completion.
This gate restricts the flow of water from the Hilla River to various villages downstream and affects thousands of lives...01OCT05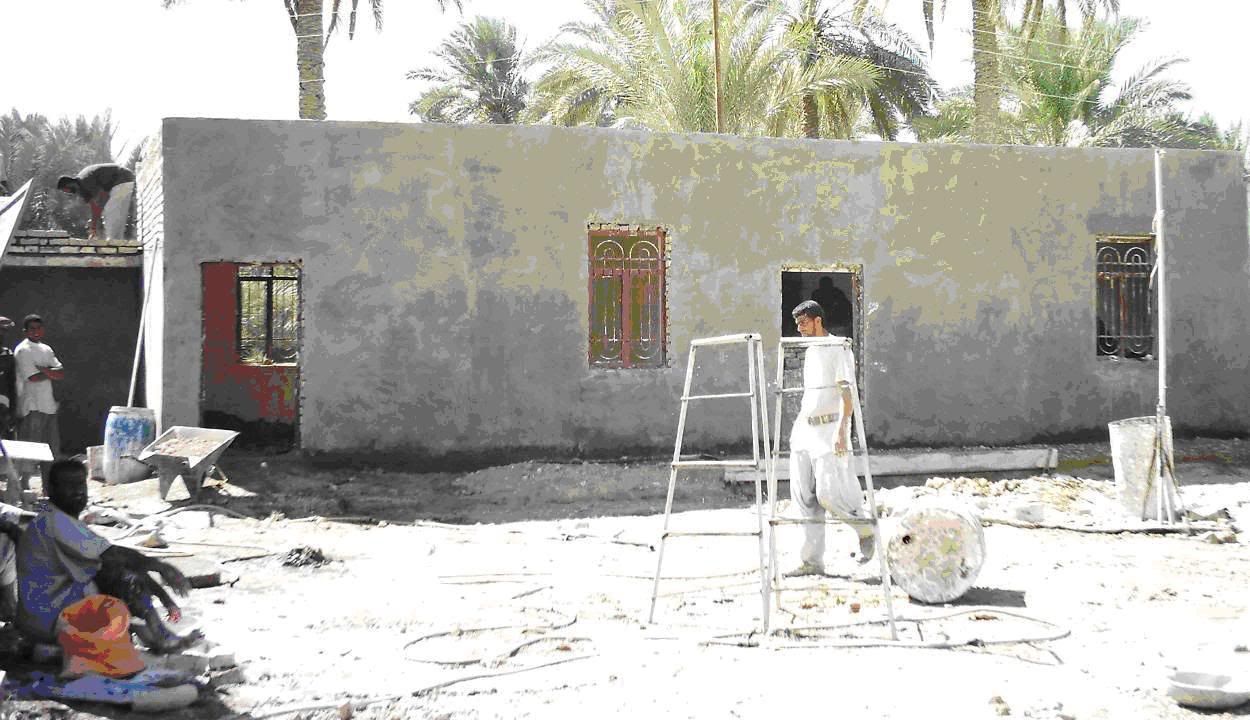 This is another school about 75% completed.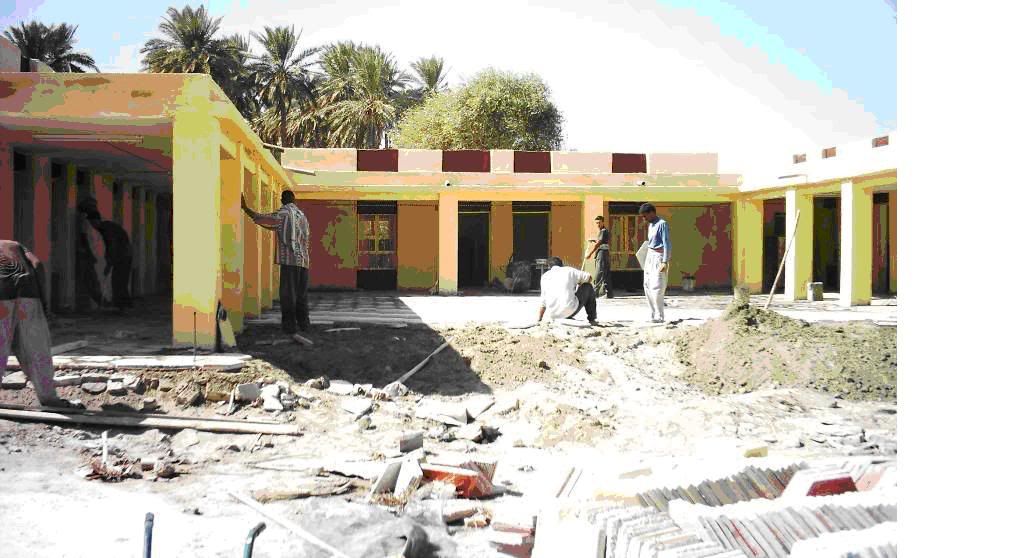 Many of you may recall the two mud/straw structures I took photos of prior to renovation of this school. Well, here are the new classrooms taking their place. Once all projects are completed I will show a before and after of the work. In some cases it's amazing to see the quality of work done with only rudimentary tools.
The contractor decided to lay tile in the courtyard instead of leaving it as dirt.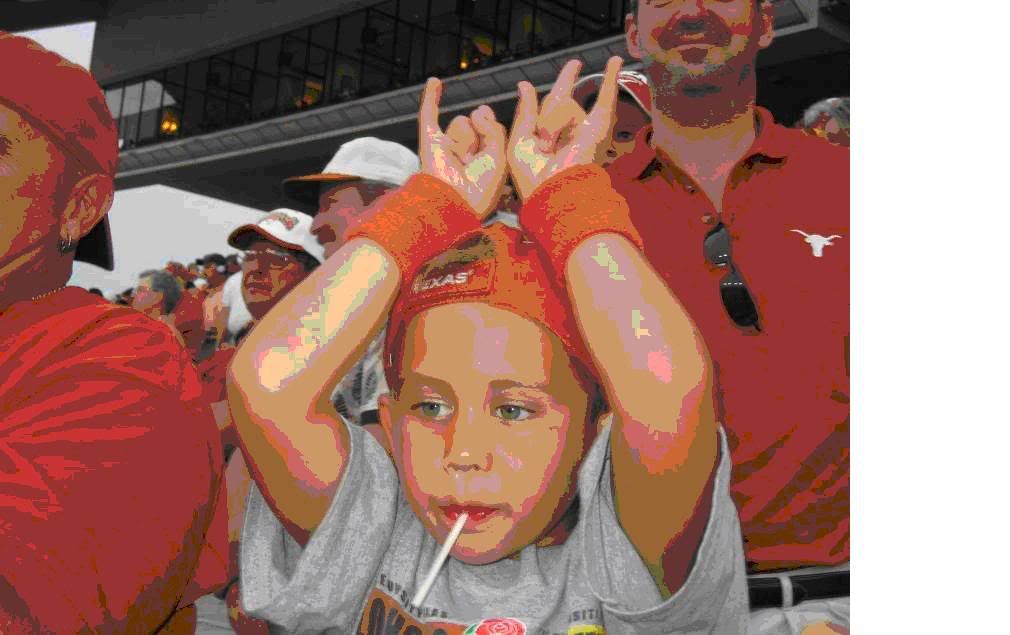 This young man is Grant Churchill from Corpus Christi. His dad is a huge supporter of us and shared this picture with me. "Grant loves you guys and literally prays for you all." Well Grant, I appreciate your continued support of the troops and good luck through out your football season. To those of you from Missouri, HOOK'EM HORNS! Hey, there's always next year…oops, no there's not, we don't have another chance to practice against you guys until ???
I was so touched by this e-mail I wanted to share it with everyone. Thank you Mary for your continued support.
We are all so wrapped up in our own little selfish worlds that we oftentimes forget the true heroes, the "United States of America hero, the Soldier".
And might I add, we've all suffered to some degree at one point in time or another in our lives, some more than others....., but think about it....., our soldiers are more than suffering because every day they are away, they lose those days of their lives with their loved ones and friends. Those missed days are irreplaceable, erased priceless moments of being there to see their children born, say that first word, take that first step, here their precious little laughs, see their son or daughter graduate, get married, etc. Folks, nothing can replace these Kodak moments......, we, on the other hand, are here to experience them, our troops aren't. And it is because of these brave soldiers that we are blessed with the opportunity to experience all of these "Kodak moments".
So please, don't hesitate to greet and thank all the soldiers you might encounter in your daily life. Say a prayer for those who have lost their loved ones, never to return to their land of birth, of freedom that other soldiers went to war for. Say a prayer for those children who will never know their "soldier" parent were it not for a photo in uniform because they fought for what they believed in, the freedom to live in this great country of ours, the U.S.A., with all its idiosyncrasies, it is still "the land of the free".
So smile at that soldier, show them that they are truly appreciated...., remember, you never know until you have walked in that soldier's boots, freedom has its price. America needs to wake up to the needs of its soldiers. So many times I hear the argument that "well, they knew when they signed on the dotted line"....., I often wonder how many of us would of done the same thing. Our soldiers don't just "sign on the dotted line" because they want a free education or an opportunity to travel to faraway countries...., believe you me, there's more to it than meets the eye...., they are prepared "to go to bat for you and me".
"Thinking of you (the soldier) while you're away...., for your safe return we pray."
God bless America and the American soldier.
Please take time to visit Michael Lubke's website: http://www.mlub.blogspot.com. He has taken a personal interest in helping the team by posting our newsletters and he's a University of Texas undergrad student. That alone makes him okay in my book, Thanks Mike.
Finally, I met a classy lady this week and promised to plug her in this week's newsletter. Her name is Katherine Kersten and she is with the Star Tribune in Minnesota. She's a classy lady because she's a columnist who speaks for the soldier, and she replied to my e-mail and requested to be placed on the mailing list. Thanks Katherine. You can read her column at startribune.com.
Comments:
Great site soldier. Keep up the good work.
Thank you for defending my freedoms, so I can have a "normal life." I get up, have a cup of coffee, drive to work, go home, kiss my wife, have dinner, and go to bed. All without ever having to carry and/or fire an M16. That is because of you, and others like you.
http://rightfielder.blogspot.com
Great site and excellent photos. I would like to post a story (or several) about your unit and the work you are doing in the Soldier Stories section of my website. Could I use some of your photos? If you are interested please contact me (my site has a contact page).
Post a Comment
<< Home