Tuesday, October 04, 2005

3rd/112th Armor BN (FIST)
Panther S-5 (Civil Affairs Team)
56th Brigade Combat Team
36th Infantry DIV (Texas National Guard)
Central Iraq
WEEKLY ROLL-UP
109,866 people on three continents. That's the latest estimate of people receiving the newsletter as of Saturday, 24SEP05. As I put the newsletter together, I can't help but think of my fellow Texans enduring Hurricane Rita. I have family that lives in the Houston Area that had the common sense to get out of there. They didn't sit around and blame the government or the President for not helping them. The heeded the warning and left everything but what they could fit in their vehicles. What will be waiting for them when they return is a big unknown. For those of you who are religious, please say a kind word for everyone affected by this Hurricane.
You know, I think I'm going to stop eating in the chow hall. Every time I do I see something else that makes me want to throw something. Take yesterday for instance, I'm sitting there watching Bill O'Reilly sparing with Phil Donahue. I'm not going to bore you with details, but the jest of the discussion was America cutting and running from Iraq. Donahue was all for us getting out and Mr. O'Reilly was defending our being here. You know, I provide Mr. O'Reilly, Mr. Hannity, and several others with plenty of ammunition week after week. Can someone please tell me why these guys refuse to show the good over here and shut the anit-war protesters mouths? Of course Mr. Hannity hasn't replied to me and I'm certain he hasn't replied to anyone else who so eloquently told him off on the team's behalf. I can honestly say I was not surprised by the responses y'all forwarded to me. It makes the team proud to know there are so many of you out there who appreciate what we do for the people of Iraq. It does somewhat sadden me to know the media refuses to embrace the good things going on here. I thought, FOXNews was an exception to mainstream media, but I guess they are wolves in sheep's clothing, "Fair & Balanced" my backside. Please take time to visit Michael Lubke's website: http://www.mlub.blogspot.com. He has taken a personal interest in helping the team by posting our newsletters and he's a University of Texas undergrad student. That alone makes him okay in my book, Thanks Mike.
The projects are going along very well, and in some cases going much quicker than expected. Amazing how much work gets done when you have about 50 laborers a day helping renovate a school. Many of the projects will be done within the next few weeks. After that, I guess we'll just go back to what we were doing before the projects; visiting the villages, distributing donated items and treating the sick.
I want to thank the students and teachers who are taking the opportunity to send questions and have them answered by my interpreters. It's one thing to read about things in books, it's another to have someone answer your question that actually lives in the country you're studying. Ms. Morey's freshman class from San Angelo ISD is the first to send questions to my interpreters. Thank you very much and you'll get the answers very soon.
Welcome to the "First Timers" receiving the newsletter. I hope you enjoy it and feel free to pass it around to as many people as you would like, that's what it's here for. Thanks for the continued support of the troops; we truly appreciate all the letters of encouragement, e-mails, and boxes. I will be more than happy to entertain any and all questions, comments, or requests. Finally, "if you can read this, thank a teacher, if you can read it in English, thank a Veteran." Have a good week and Hook'em Horns, Paul.
"People prefer to follow those who help them, not those who intimidate them."
–C. Gene Wilkes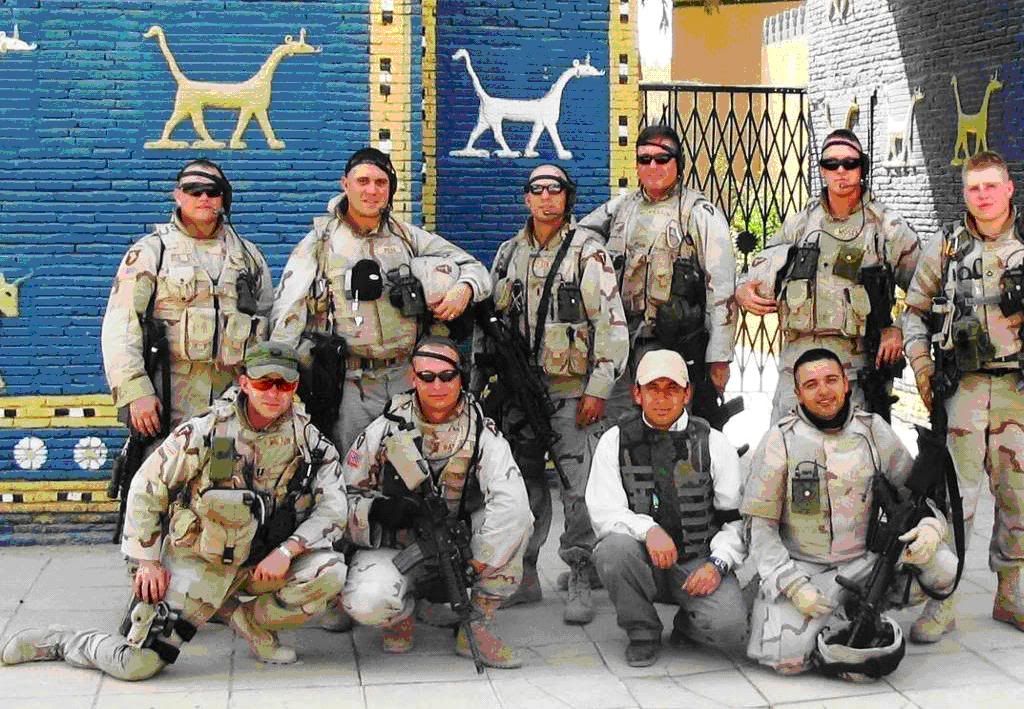 To reacquaint, or in some cases acquaint you with the team, standing l/r; SSG Farr, SSG Pena, 2LT Colicher, SSG Wasson, SPC Moses, and SPC Blanchard. Kneeling from l/r; CPT Walton (non-team member) SPC Watson, Iraqi Interpreter Delshad, and SPC Khan. This photo was taken in front of the Ishtar Gates leading into the Ancient City of Babylon…26JUL05
Newspaper clipping sent to us by SSG Wasson's wife...how very true.



This is one of our school renovation projects. This photo was taken on 11SEP05
This is the same school taken on Monday, 19SEP05. As I explained earlier, the work is going along better than expected. It also makes a huge difference when you have people wanting to work and the weather cooperates. We haven't had a measurable amount of rain since April. This school has on average 40-45 workers everyday. The contractor knows the importance of getting the project done in a timely manner, but wants to do a good job. The children who normally go to this school are either going elsewhere until it is complete, or not going at all.



This is the all female school located in a nearby city, taken 13SEP05
This is the same school taken on 20SEP05. The contractor has really done a good job on this project and at this stage the project is at 90% completion. This particular school had the perimeter wall removed and a new one installed and the W/C (water closet-bathroom) was repaired. By next week's newsletter it should be 100%.



This is one classroom built to replace the mud structure they used as a classroom. This school is approximately 60% complete.



The Sheik of this village was so pleased with our choosing the school in his village for renovation; he invited us for a traditional Iraqi lunch. The menu items included; roasted chicken, cucumbers, tomatoes, dates, bread, bananas, apples, and of course chi (tea) afterward. The Sheik told us once the school is complete they will prepare two lambs and have a big feast. I learned early on in this line of work what doesn't kill you only makes you stronger…but the suffering you have to go through makes me wish I was dead sometimes. I figure if they're hospitable enough to prepare a meal for me I better partake in at least a little of it. Pictured from left to right, SPC Moses, Iraqi Interpreter, 2LT Colicher, CPT Nikerson, and yours truly. It was CPT Nickerson's first trip into "the wild" and we let everyone know, as you'll soon see.



With the beginning of school, pens, pencils, and so forth are in high demand. We wanted to initiate CPT Nickerson by allowing him to pass out such items. It started out very neat and orderly considering there were nearly 75 kids. Notice the boys making sure the pens have ink. The Iraqi Govt supplies most of the schools, and on occasion, especially during Saddam Hussein's Regime, many of the pens did not work.
But, as you can see after a few minutes, the feeding frenzy got the best of him and he threw up his hands and surrendered. You know it's pretty bad when a commissioned officer surrenders to a bunch of school kids. Nonetheless, he enjoyed himself and thanked us for taking him out. I truly feel sorry for people who spend their entire time on a base camp or escorting KBR convoys. Unless you get out and interact with the people, and realize they're not much different from you and I, then you really can't say you served in Iraq or helped rebuild a country.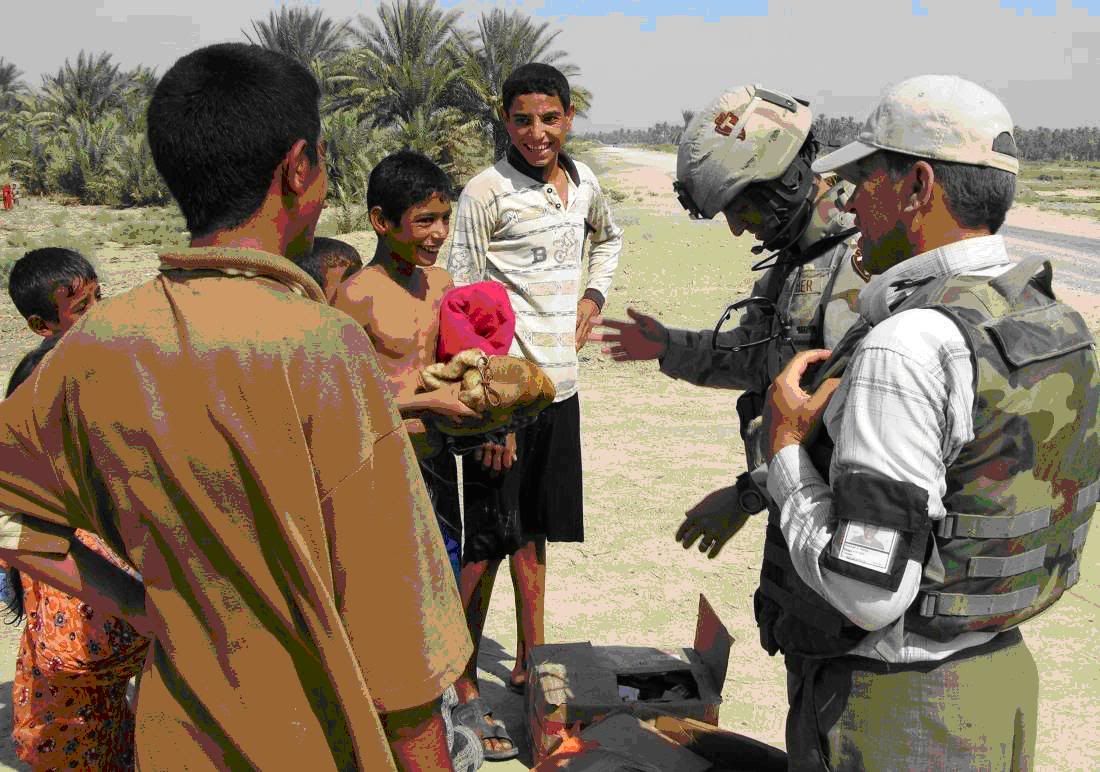 We had four large boxes of clothes in our connex (storage trailer). One day we decided to hand those out and the next few pictures are of that event. 2LT Colicher is seen here with one of our interpreters.
It's a great feeling to see a child's eyes light up when we hand out items.
As soon as we opened the box, we just stood back and let them have what they wanted. We had enough clothes and shoes for 20 kids, and that's about how many there were in this one family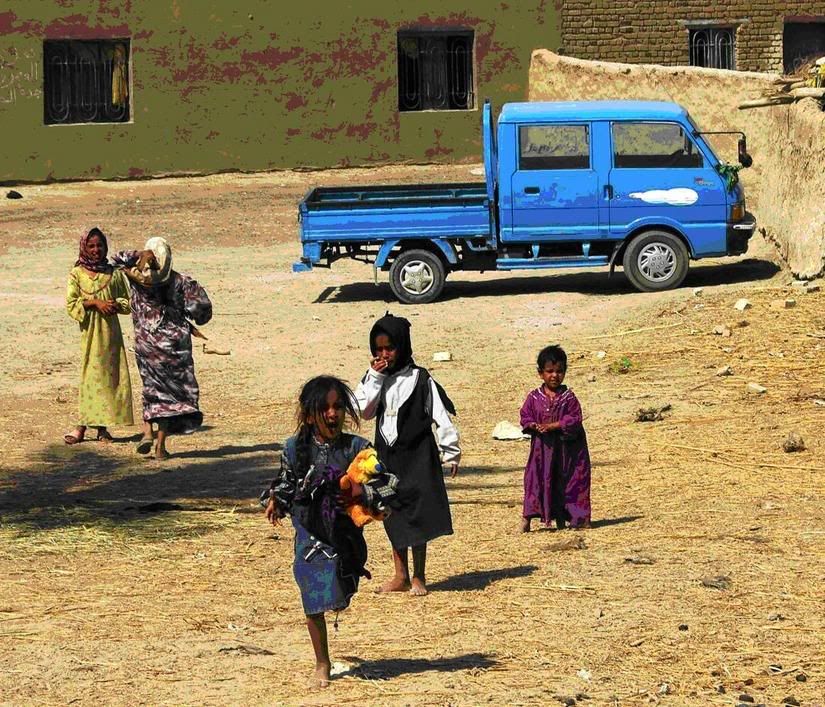 Once word got out we were handing out clothes, you could feel the ground shake as kids came running from everywhere.
Anyone wishing to send donated items please do so by the middle of October. Our unit is due to hand over authority to another unit in mi-November and I cannot guarantee they will be as friendly or willing to distribute items as we have. I would also like for everyone to visit; operationiraqichildren.org, and anysoldier.com. These two organizations alone have done a wonderful job introducing many of you to our team and supporting our efforts by sending donated items. I know there are many other organizations, but these two hold a special place in our hearts…Thanks.
Comments:
Cool Blog! If you get a chance I would like to invite you to visit the following books Blog, it is cool to!
Post a Comment
<< Home