Monday, October 24, 2005
3rd/112th Armor BN (FIST)
Panther S-5 (Civil Affairs Team)
56th Brigade Combat Team
36th Infantry DIV (Texas National Guard)
Central Iraq
WEEKLY ROLL-UP
128,932 people around the world. That's the latest estimate of people receiving the newsletter as of Sunday, 23OCT05. This has been a very busy week, which is the way we prefer it as it helps the time go by quicker. We visited the two water projects this week and I'm happy to report they are 100% complete as far as we are concerned. Now it's up to the Mayor to hold up his end of the bargain and get the pipe netting to run to houses, as he promised. The completion of the two water projects marks an end to the bulk of our missions these past two months, overseeing every step of the projects. From the selection of the projects, to the selection of the contractors, to checking on the projects weekly to ensure the terms of the contracts were being met, we are proud of the work done. The team can leave Central Iraq knowing we helped the Iraqi people in this region in ways the other units did not. Although we have been in this area since April, we didn't receive funding for projects until the middle of August. On September 9th we started laying two electrical lines, refurbishing three schools, and building two water sanitation/distribution sites with a price tag of just over $366,000 USD. In a little over a month all projects are complete and the people benefiting from them are very pleased. Several thousand people are enjoying electricity, many for the first time in their lives. Children are returning to schools once run down and forgotten by Hussein's regime. Once the Mayor is able to provide the necessary pipe network, several thousand more will enjoy clean potable water for the first time in their lives. As we continue to explain nearly every time we go out, the Coalition Forces can not reverse 3 decades of damage inflicted by Saddam Hussein and his henchmen in the 2 ½ years we have been here.
Two very important stories came out of Iraq this week and watched by millions around the world. The first was the Yes/No vote for the Iraqi Constitution. Millions of Iraqis cast their votes and to this day it is still unknown what the final outcome is. Whatever the final result, it was a victory for the democratic process. Sunnis participated in greater numbers in this election than in the last one held in January, which they boycotted. The constitution will establish what kinds of laws will govern Iraq and how much a role Islam will play in government's decision making. If the constitution passes, it will be up to the next National Assembly to decide issues that the constitution does not clearly address. The final story was the beginning of Saddam Hussein's trial. This will be Iraq's "trial of the century." Many Iraqis, including my two interpreters were glued to the television as the trial unfolded before their eyes. They were clearly upset when the judge announced the trial would be postponed until 28 November. My interpreter Ala'a looked at me and said, "Saddam did not postpone killing my relatives, I can not believe this is happening." All I could say was, "Unfortunately, that's the price we pay for living in a democratic society, and even the people we know are guilty get a fair trial."
Welcome to the "First Timers" receiving the newsletter. I hope you enjoy it and feel free to pass it around to as many people as you would like, that's what it's here for. Thanks for the continued support of the troops; we truly appreciate all the letters of encouragement, e-mails, and boxes. I will be more than happy to entertain any and all questions, comments, or requests. Finally, "if you can read this, thank a teacher, if you can read it in English, thank a Veteran." Have a good week and Hook'em Horns, Paul.
Events have brought our American democracy to new influence and new responsibilities. They will test our courage, our devotion to duty, and our concept of liberty.
– Harry S. Truman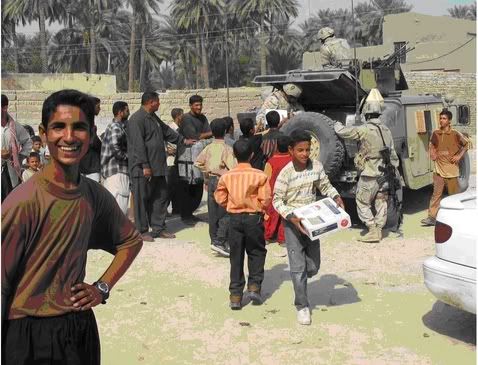 Our first trip of the week took us to one of the completed schools. We delivered several boxes of donated school supplies courtesy of 2LT Colicher's mom (Alice Colicher), sister (Misty Fountain), and family friends (Mayna & Lacey Benoit). Please direct any hate mail to 2LT Colicher if I failed to remember anyone with his mom's group. The team appreciates your time and effort in making these children a little happier. You have provided them with the tools necessary to learn and you should be proud of your efforts.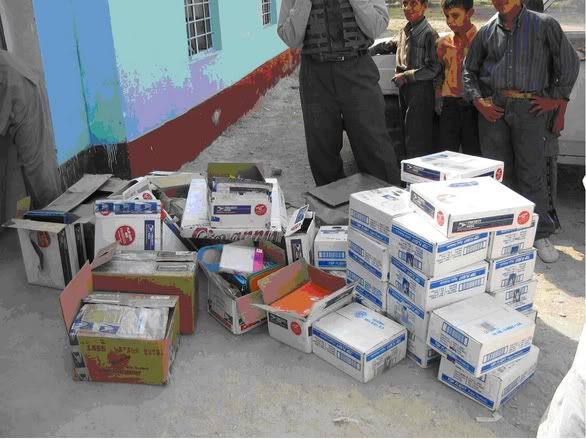 Here is a portion of the donated school supplies. Some of it had already been taken inside the school before I was able to get a good picture of it. The teachers and students were happy at receiving such nice supplies and wished to express their appreciation to those who donated them…17OCT05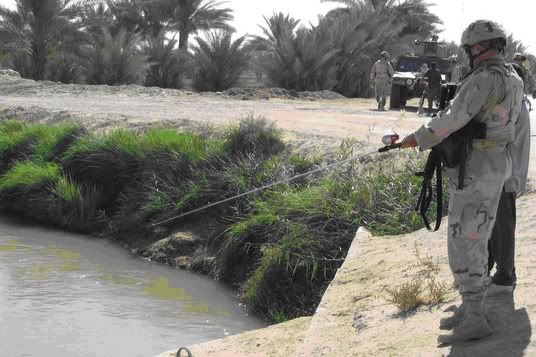 SSG Wasson decided to try out his new fishing pole in a local canal. Unfortunately, fishing is a sport of patience and we just didn't have the time. Needless to say he didn't catch anything, but he did entertain the locals as many had never seen such a contraption.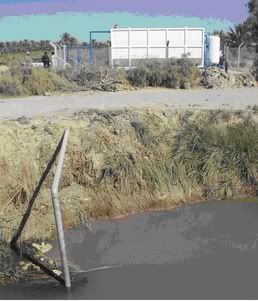 The same canal SSG Wasson tested his fishing pole in is also the source of water for this water project.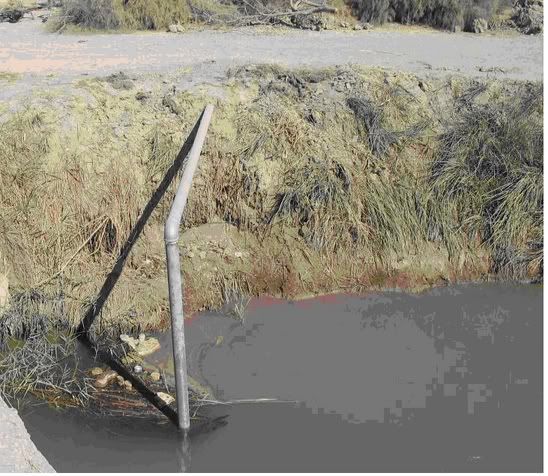 The water system is set-up as a four stage system. Stage one is the drawing of water from the canal through this pipe by two motors.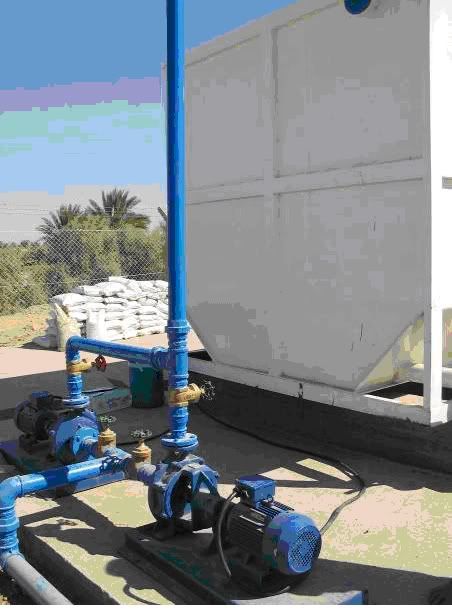 Water is drawn by these two motors and pumped into the large white tank; capacity of this tank is 7,920 cubic gallons. Second stage occurs inside the large tank. Chlorine is added as the water is drawn from the canal. The water is then distributed through 4 chambers, breaking down any impurities in the water.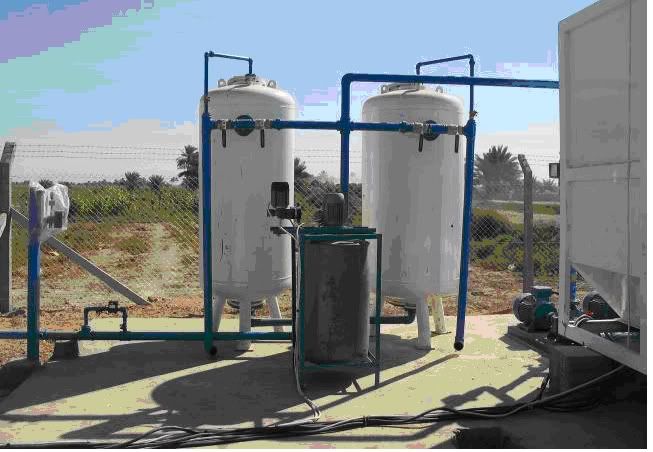 Third stage consists of water from the large tank being pumped through the sand filtration system located in the two cylinders. The filtration system is comprised of fine sand at the top, medium size pebbles in the middle, and then larger pebbles at the bottom. Once the water passes through this stage it is 90% potable. Stage four is the adding and mixing of bleach and then testing for potability. This site will be manned 24/7 by one guard and one mechanic. Once the mayor obtains the pipe netting it will be able to clean and pump clean water to several thousand people. Unfortunately, the team will not be here to witness this…21OCT05
The following pictures are the final school project prior to refurbishment.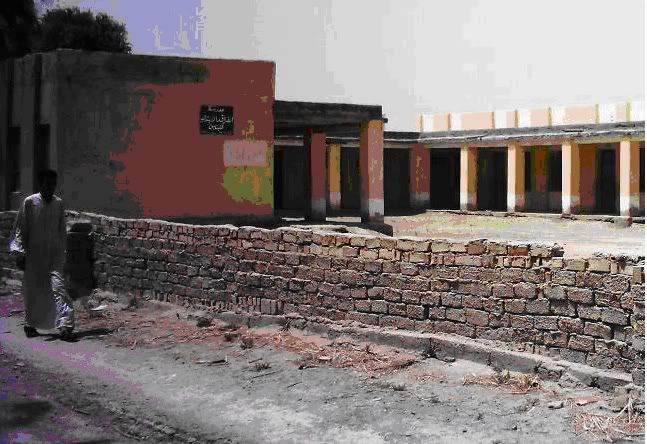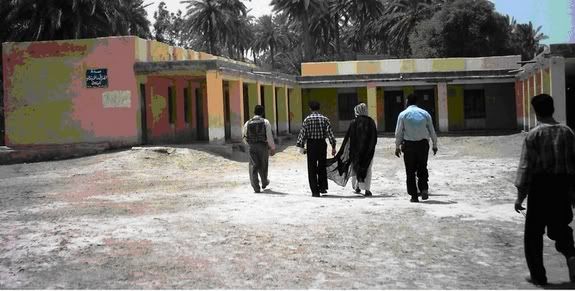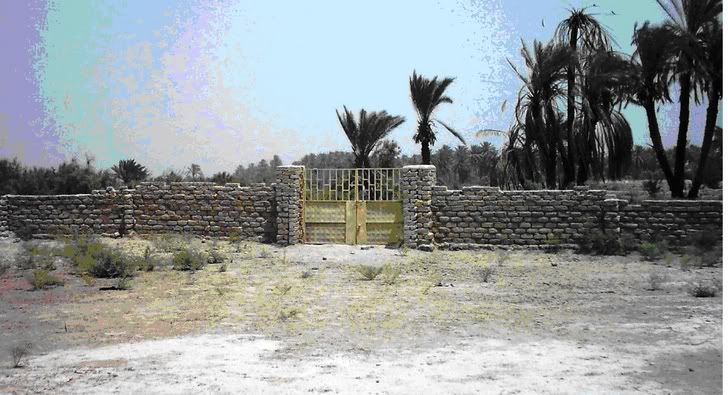 …………and after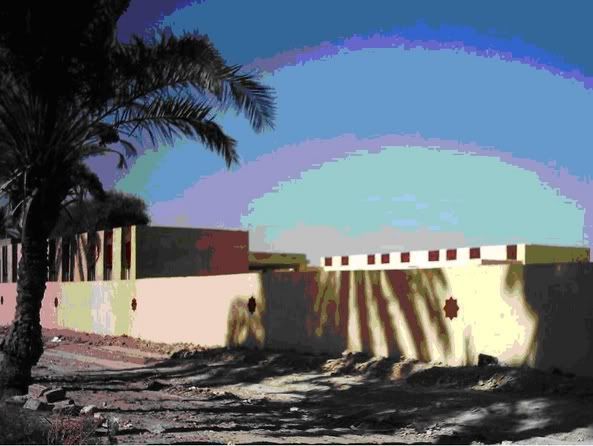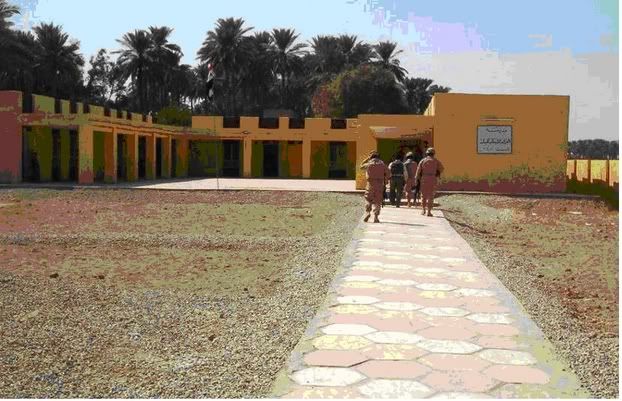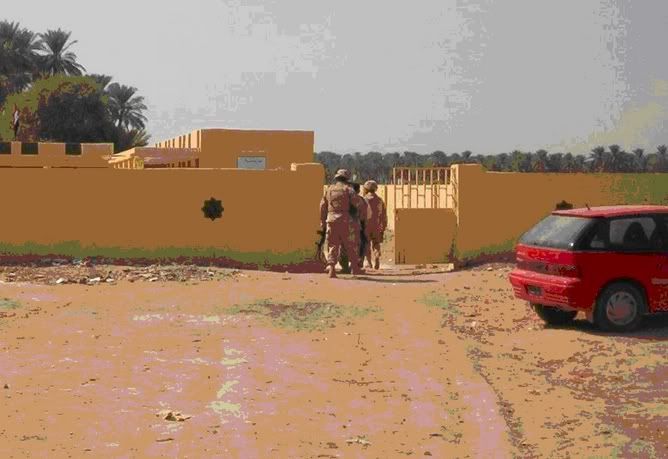 The contractor for this school project performed above and beyond the scope of work he proposed in the contract. He explained he wanted to help his fellow countrymen and felt obligated to do a good job. The headmaster explained how he had requested assistance from the Iraqi government to repair this school, but it fell on deaf ears. He expressed how he never dreamed his school would look like this and thanked us profusely throughout our visit. Before we concluded our visit, the headmaster stated he drafted a letter to the government explaining how it took the Americans less than 6 months to coordinate the refurbishment of his school and how happy he was for our coming to his assistance. It was one of those "thanks, for nothing" letters to the government.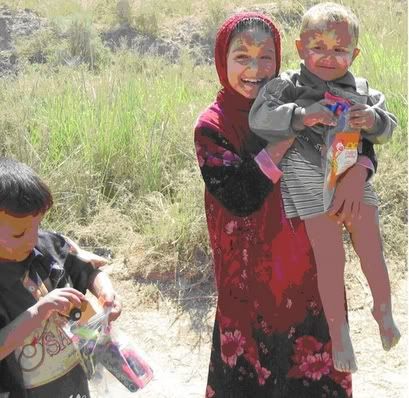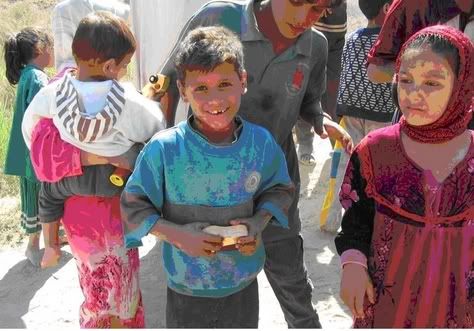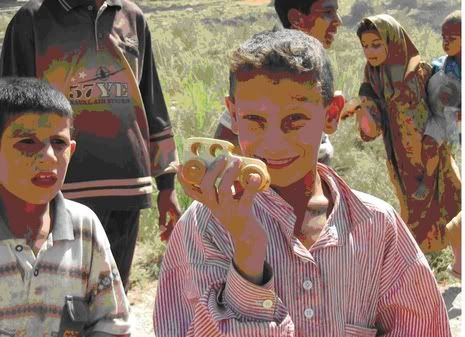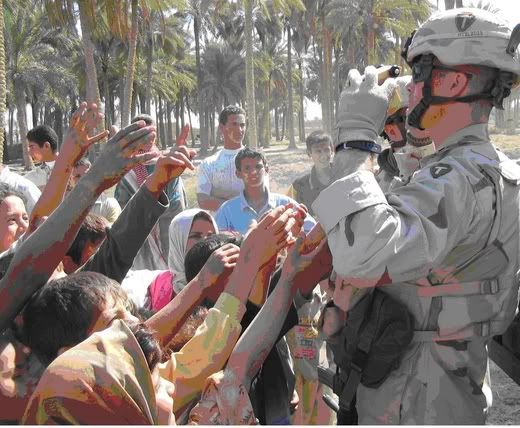 The above photos are of our last trip of the week. The Scipio Superstars 4-H Club from La Porte, Indiana donated several boxes of baggies filled with pens, pencils, toys, etc. which we gladly handed out in different villages. The wooden toys you see in the previous photos were hand made and donated by the Midwest Woodworkers Association of Columbia, MO. The final photo shows SFC Loud teasing the kids with some of the wooden cars. These were a big hit and a much sought after item.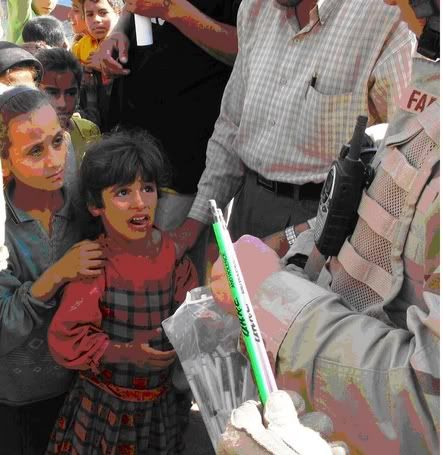 The final group to donate school supplies are my friends and former co-workers with the Excelsior Springs, MO Police Dept. The pens and pencils were greatly appreciated by kids. Thanks guys for the assistance.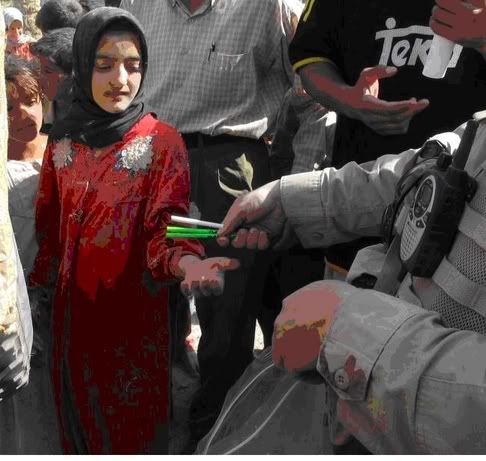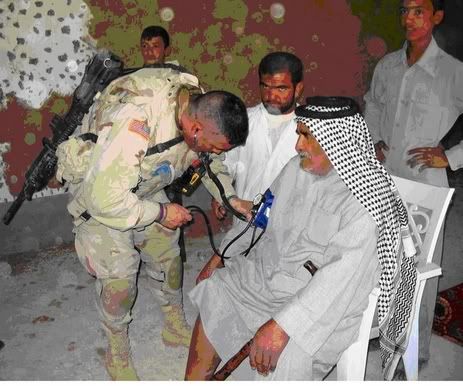 SSG Pena is shown checking the blood pressure of an Iraqi civilian.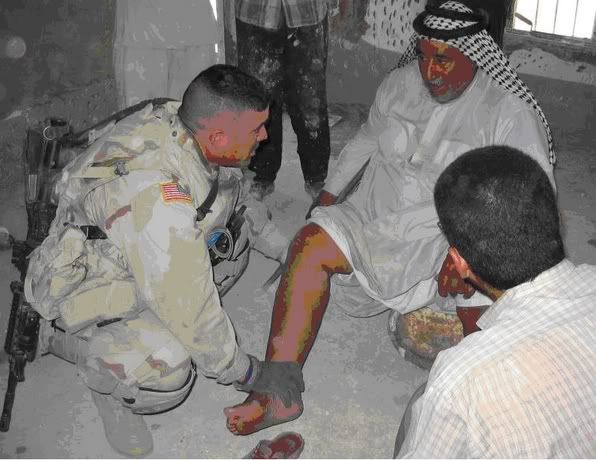 With the help of one of our interpreters, SSG Pena checks the range of motion of this Iraqi civilian's leg. The gentleman advised he had already been diagnosed with arthritis, but requested to see SSG Pena anyway…22OCT05
As I explained last week, we will no longer request donated items of any sort. Our time here is quickly approaching and there is no guarantee the next unit will be as generous as we have been when it comes to distributing donated goods. I apologize for any misunderstanding last week when I notified everyone of the upcoming "Welcome Home Celebration." For clarification purposes, the event is scheduled for the "first part"
of December, not the 1st. Again, once I receive a firm date I will send out a mass e-mail inviting any and all to come. It would be our pleasure to meet the people who have made our mission somewhat enjoyable. If it were not for all of you who have donated items for us to distribute, our time would have gone by much slower than it has. Your charitable contributions have allowed us to get out and interact with the Iraqi people, allowing us to realize they really are no different than you and I.
I want to recognize some organizations who have helped us all come together one way or another. Please check out their websites and express your appreciation for their service and support of our efforts, not only here in Iraq, but in Afghanistan as well. I know there are others out there, but these have affected us personally. Thanks for what you do.
Finally, you know the newsletter wouldn't be complete with out me rubbing in yet another awesome victory by the Texas Longhorns. In fact I received an e-mail from a friend of mine with the Dallas Police Department and it went something like this, "Howdy P.W.,I hate tell you this but my high octane Texas Tech offense will be running full bore tomorrow, I plan to make it my only official act for the day to watch it!!!" I'll let that person remain anonymous, but I know some of you recognize his BS…HAHA. For those of you wondering, yes I did watch the game and out of 12 who started out watching it, I was the final one to leave after it was over, at 0200 this morning…I am a true Longhorn Fan, Hook'em Horns.
Comments:
Sometimes life lets you down and you need a
instant cash advance
. I dont recomend this. I would recomend learning to manage your money a little better. There are a lot of great sites on how to manage your money. If you need some money right now and you dont have a choice visit.. http://cashadvance444.com/ .. instant cash advance
Waste your money and your only out the money but waste your time and you waste a part of your life...
Post a Comment
<< Home